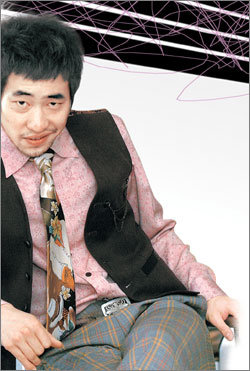 I was riding home in a cab in Gangnam, Seoul at 2:00 a.m. when a face appeared outside my window. The face had a hairstyle like cotton candy. The figure taking the back seat of a motorcycle passed by at high speed. I heard a voice shouting a queer sound, something like "Kkiyo!" and my first thought was, "The world is going to the dogs." But I realized I had seen that face many times before. It was the face of Ryu Seung-bum (25), and actor who has said he likes Spam (a type of canned meat product), fried kimchi, and earthworm-shaped jellies.
"I release all of my stress when I ride a motorcycle at midnight. I become invigorated when I do that," says Ryu. "Sometimes, I even ride my motorcycle along the sidewalks of the Han River. I know I should not do that. But I feel free when I do."
He said this in an interview on March 18. He looks very cool because he is living the way he wants to live right now, like in "Crying Fist," a movie that he acts in and that is scheduled to be released on April 1. In it, he plays "Sang-hwan," a boxer from a reformatory who fights for someone else for the first in his life, and who contends for a victory that he cannot concede against Kang Tae-sik (actor: Choi Min-sik).
-This role is no exception. It's played in kind of a "dog-fighting" style. Why do you play such a role, even in a boxing movie?
"I have never fought like Jung woo-sung in "Beat" or Yoo Oh-sung or Jang Dong-gun in "Friend," who all appeared in very fine fighting scenes. Instead, I'm fighting desperately for my life. Senior Choi Min-sik and I didn't make a specific plan for the action scenes like I did in "No Manners." We just had a rough plan. For example, we just decided who advances, who is shoved and who hits first. Then, we started to really hit each other. The audience will notice this about the fighting scenes. We should feel real pain so we can feel pain in our hearts. That is more important than boxing in the movie."
-Do you actually fight well?
"People seem to think that I am very violent, but I didn't fight all the time. Of course, it would be a lie to say that I have never fought in the past. I realized that I am not the kind of person who can make a living by fighting after doing so a few times in my youth.
-I have heard that you and Mr. Choi performed individually for the film, excluding the last fight scene. Were you ever irritated by the fact that Mr. Choi would sometimes act better than you?
"My conclusion is that I am different from Choi Min-sik. Of course, the sense of competition was in my mind. Two actors should be well matched. It would be a discredit to moviegoers if I lagged behind.
-You seem to be out of your mind in the movie. I even felt fear from some of the looks you gave.
"Sang-hwan doesn't have any desire for life. He does not frown when he expresses anxiety toward society. He just watches, and he "just" acts. He never threatens other people. He just bites others to protect himself.
-Your hairstyle, a so-called reggae wave that you wore before entering the youth detention center in the movie, was very impressive.
"It was very difficult living with that hairstyle. Once I washed my hair, it never dried. My neck was automatically turned down. In summer, a bad smell came out from it. I scratched my head all the time. I once had the same hairstyle before because I thought I could not have it when I became an adult. But if you have it, you should be patient and keep it. One thing that is good about is you can sleep without a pillow. I just can use my hair as a pillow."
-I know that Director Ryu Seung-wan is your real older brother.
"He is my brother, but he is really great. If he did not have trust in me, he would not have suggested me for the part in his movie. In the past, I sometimes decided to participate in his films after I read his scripts, but I don't do that anymore. My brother and I have families, so we want to do things through official channels.
-Extraordinarily, you have a lot of fans among married women.
"I think that's because my character is always something empty, rather than neat. I'd also like to play a role as a junior from a "chaebol" family. I want to do a serious scene with a beautiful girl. However, for me, it is time to discover myself, rather than try to extend my range as an actor. Like a phrase from "Arahan," a movie that I took part in recently: "For a shoe shiner, polishing shoes well is the way to achieve spiritual awakening."
-Is your trademark your "desperation style" of acting?
"I feel I am not as brave as I used to be. But I try to be cool. If a movie that I refused to act in became a large success, I believe that the movie succeeded because I did not take a part in it. I do not look backwards.
-Some people say you are a professional "gangster" actor.
"If anybody who knows me says that, I would accept it. But I would oppose the idea if the person said that with only my image to draw upon, since that is also dangerous to me."
-Do you have any plans to appear in a TV drama?
"I sleep a lot. Unfortunately, actors or actresses cannot sleep much during shooting."
-Do you have a girlfriend?
"(With a little bit of hesitation) I do not have somebody that I can call a girlfriend. But I always love something in my life. (Laugh)
-Do you happen to like a woman who is older that you?
"An older girl? Well, I like all women.
Seung-Jae Lee sjda@donga.com