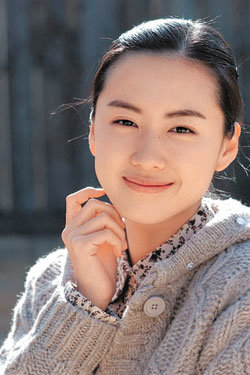 "I'm not sure if I'm that sweet and pretty. I just thank people for thinking of me like that," said actress Hong Eun-hui (24) Tuesday in her interview at the KBS Drama Center in Suwon. "All my friends make fun of me, saying that I'm not like myself at all on TV. I don't think I've changed a lot after marriage two years ago, but I've matured a bit more, I guess," she said.
Hong is now playing "Yeong Sil," the main character of "TV Novel-Wind Flower" (produced by Han Cheol-gyeong, airing at 8:05 a.m. Mondays through Fridays) and is most loved by housewives in their 40s and 50s.
The drama is a story about the crooked destiny of sisters who were separated during the Korean War and meet again 20 years later. Its setting is the 1970s. "Yeong Sil," the older sister, was brought up as an orphan and lives through many hardships, such as working as a housemaid and needle worker, but she winds up losing his lover to her younger sister, Jeong Nim, (played by Kim Seong-eun).
"I was surprised to be playing a housemaid at first. Yeong Sil was not treated as a human, but rather like a slave. I later asked people about the life of housemaid that time. That was when I learned that they were even thankful and worked hard when as long as they could have meals three times a day," she said.
She found "Yeong Sil," in the opening episodes of the drama, was overly nice, but housewives who experienced the 1970s sympathized with her character. The familiar settings, such as the noodle factory and sewing factory, and the friendly character of "Yeong Sil," made those housewives feel nostalgia,
"Several people often greet me with smile or sometimes hold my hands warmly, saying how sorry they are for Yeong Sil. When I go out to eat, I often get more side dishes, too,"
Hong doesn't seem to mind those enthusiastic older fans. When the middle-aged fans who saw her closely and said how young she looks, Hong even nestles up to them, saying, "I'm still young."
"I didn't like it when people told me that I looked young. My baby-face used to limit the roles I was able to play. But, now that I'm a mother, I think I enjoy those compliments a lot," she said.
Hong has appeared in various dramas, such as "Sangdo," and "`My Love, Patzzi." She was 22 years old when she married actor Yu Jun-sang (now playing "Gil Sang" in the SBS drama, "Toji,"), who is 11 years older than her, in 2003. The same year, she gave birth to her son, Dong-woo.
"After marriage, I came to more realize how important my family is and try to do more for the people close to me, which also helped me expand my acting," she said.
"My mother-in-law is a big fan of "Wind Flower" along with my mother. They watch every episode. Even my husband, who first just watched the show to monitor my acting, became a big fan, too."
The show's 45th episode aired on March 23. The stronger "Yeong Sil" becomes against all odds, the more interesting the story becomes. Hong often imagines the childhood of "Yeong Sil," which is not written in the script. She said the character is more attractive due to her charisma, which will be shown through her revenge in the drama's later stages.
Ji-Won Jun podragon@donga.com