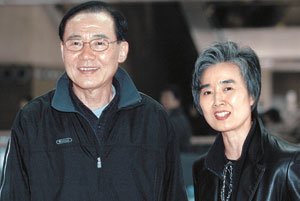 Thirty years have passed since two particular people have gotten to know each other through basketball.
The two first met as a coach and a player, and later they tied the knot. Now, they are companions who lead the same basketball team as head coach and coach. For them, the basketball court is their entire life.
The couple is Chanson head coach Jung Joo-hyun (70) and coach Lee Ok-ja (53) of the Women's Japan Basketball League (WJBL). On March 22, they arrived in glory at Gimpo International Airport in Korea after successfully leading Chanson to victory in the finals of the WJBL on March 15. They came to Korea with their team, Chanson, for a game against Woori Bank in the Korea-Japan women's basketball league scheduled for March 23 at Jangchung Gymnasium, Seoul. The Chanson basketball team includes naturalized Japanese player Ha Eun-joo (22, 202cm) on its roster.
At the airport, Jung and Lee, with bright smiles on their faces, showed modesty, saying, "The victory was thanks to the players who were united during the games and did their best," adding, "We are very pleased to see Korean coaches getting credit in Japan." Chanson with Jung, Japan Airlines with Im Young-bo, and Toyota with Jung Hae-il all reached the semi-finals in this season's WJBL.
Lee, who moved to Chanson from the Fujitsu team where she was head coach for three years, has gained much attention from the media because she is the first female coach of a basketball team that has made the finals.
Jung boasted that "I feel at ease working with my wife on the same court and am able to concentrate more on coaching." Lee responded that "I can rely on him, and I do better when I am with him than when I am struggling alone, and we rectify the wrong strategies," adding, "I felt sorry that I couldn't support him except for preparing breakfast."
On the issue of Dokdo, a Korean islet in the East Sea which became a controversial issue between Korea and Japan when Japan claimed it as its territory, they said, "We were worried that the league might be cancelled because of worsening relations between the two countries," adding, "Sports should continue for the sake of friendship."
Jung and Lee met in 1974 when both were associated with the Korean women's national basketball team. Jung, who was leading the Korea First Bank team as a coach, took over the national team on which Lee was a player (Commercial Bank, or the current Woori Bank).
Jung was the head coach of Korea First Bank and Kolon. After Kolon was broken up in 1997, he went to Japan. In 1978, he transferred to Japan's Chanson team as a basketball player and retired in 1979. Then he coached the Korea Credit Guarantee Fund team, Soong-Eui Girls High School, and Yong-In University. Since 2001, he has coached for Chanson in Japan.
Jong-Seok Kim kjs0123@donga.com