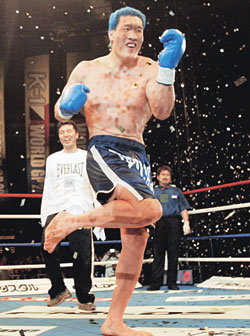 "This is only the beginning."
Choi Hong-man, who won the K-1 World Grand Prix Seoul beyond expectations on March 19 by defeating Wakashoyo, former sumo champion Akebono, and Muay Thai fighter Kaoklai Kaennorsing, faces much tougher rivals ahead.
Choi won the Seoul competition, which is considered a regional preliminary of the K-1 World Grand Prix Championship, achieving a ticket to the semi-quarter final, set for September in Osaka, Japan. Last year's final eight have already advanced to the semi-quarter final automatically, joined by the eight winners of the K-1 Seoul, USA, Europe, Oceania and Japan.
The semi-quarter final entry for the worldwide K-1 competition includes outstanding fighters: Remy Bonjasky, defending K-1 World Grand Prix champion; Musashi, known as the 'Hope of Japan'; Peter Aerts, master of kick boxing; Francois Botha, former IBF heavyweight champion nicknamed the "White Buffalo"; and others. All are big obstacles for Choi to overcome.
His biggest advantages are his 218-centimeter height and 160-kilogram weight. His overwhelming height makes his opponents try upward punches, which lack their full weight behind them.
But his next contenders are incomparably stronger than the three opponents Choi met in the K-1 Grand Prix in Seoul. Bonjasky, widely known as the "Flying Dutchman," has a strong jumping knee strike and face kicking ability. Though Choi Hong-man is much taller than him, Bonjasky is expected to make low kicks on Choi's lower body first and kick him in the face when Choi bends forward.
In response to this, Choi Hong-man needs to improve his face defense, which is one of the weakest points for him. He also has to avoid open blows and equip himself with multiple-strike skills.
Montanha Sylva stands 225 centimeters tall—seven centimeters taller than Choi Hong-man—but his punches are weaker than Choi's, leaving room for Choi to win.
A real threat is Sammy Schultz. 209 centimeters tall, Shultz is eight centimeters shorter than Choi, but the former Europe Karate champion is very good at both fist strikes and kicking. He has even defeated Bonjasky once.
But these are no reasons to be worried in advance: Choi has very good low kicks, and he has already acquired the very basic skills of attacking as he never extends his fist from behind his shoulder.
"Choi's strong power gives him an advantage in infighting. He can be a very prominent K-1 competitor when he enhances his knee strike skills for kicking in the chest and the belly in infighting, and when he adds more weight to his punches by acquiring striking skills," says Jeong Eui-jin, a commentator for K-1 tournaments.
Won-Hong Lee bluesky@donga.com