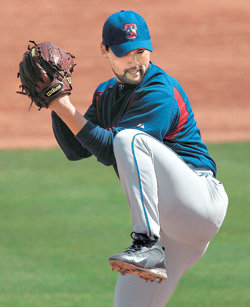 Park Chan-ho (32, Texas Rangers) had a good outing on the mound. With only one pitch hit into the outfield, it was, in fact, an exceptional outing.
Park was the starting pitcher in Texas' exhibition game against the L.A. Angels of Anaheim in Tempe, Arizona on March 15. Over four innings, he gave up just one hit and no earned runs while recording two strikeouts.
Park allowed three runs in two innings on March 5 against the Kansas City Royals and another three runs over three innings against the Chicago Cubs on March 10. His latest outing is doubly positive since it shows that his performance is continuing to improve. In the game against the Cubs, he retired the last seven batters one after the other.
Having taken the mound after Texas scored a run in the top of the first, Park retired a total of six Angels, including last year's American League MVP, Vladimir Guerrero, through the second inning.
In the bottom of the third, with Texas leading 2-0, he allowed a bunt single by Josh Paul, but quickly eliminated him by getting the next batter to ground out into a double play. He retired three in a row to end the fourth inning.
"I came in today trying to hit my spots better, rather than just throw hard," Park explained. Manager Buck Showalter said, "Today, he used all of his pitches and kept the ball down. As a result, he had a successful outing." The official MLB site for the Texas Rangers ran an article excitedly proclaiming that Park "wasn't perfect in Monday's start, but he came close."
Baek Cha-seung (25, Seattle Mariners), who is competing for a major league roster spot, made his first start in a game against the San Diego Padres. He gave up two runs in the first inning, but allowed no additional runs through the three subsequent innings. He gave up four hits, two bases on balls, and two runs over four innings.
Sung-Kyu Kim kimsk@donga.com