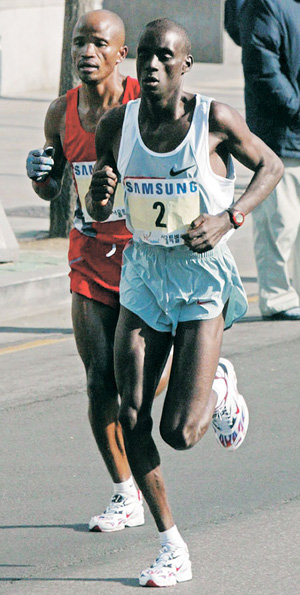 "I'm so happy that I'm the first Kenyan marathoner to win in the Seoul International Marathon. I'm also delighted that I beat Gert Thys, to whom I yielded the gold medal last year by 37 points. I'm a bit disappointed by the record, but two hours and eight minutes is good enough to be complacent," said William Kipsang, the winner of the 2005 Seoul International Marathon and the 76th Dong-A Marathon. Kipsang, a 28-year-old Kenyan marathoner, was first one to reach the finish line with a record of 2:08:53, more than two minutes later than his personal best, 2:06:39. Even though this was way behind his personal best record, his face was bright with joy.
As many have foreseen, the highlight of the race was between Gert Thys of Republic of South Africa and Kipsang. Kipsang, who lost last year's gold medal to Thys, was intent on taking revenge from the beginning. Thys was eyeing his third consecutive victory in the Seoul International Marathon. When Thys fell a little behind the leading group at the beginning, Kipsang intentionally fell behind also. When Thys began speeding up at the 25-kilometer point, Kipsang also began speeding up. When Thys again went forward at the 26.8-kilometer point, Kipsang followed him. It was an extremely fierce example of psychological warfare between the two until the 30-kilometer point.
The crucial moment came at the 32.5-kilometer point. As soon as Thys began to show signs of exhaustion, Kipsang immediately began to speed up, and took a 50-meter lead. He increased his lead to 300 meters at the 35-kilometer point, and this was virtually at the end of the race.
However, the fact that the race between the two top marathoners was concluded early was a big disappointment in terms of the record. After he increased his lead over Thys, Kipsang visibly slowed down his pace. If the competition between the two had gone for a longer period of time, experts said that the record would have been at least two hours and six minutes.
"I was heartbroken after I won second place in last year's event after Thys," Kipsang said. "Because I knew that Thys is vulnerable to coldness, I thought that if I succeeded in running with the same pace as Thys until the 30-kilometer point, I would have the advantage afterwards," Kipsang added.
Kipsang rose to stardom when he won the 2003 Amsterdam Marathon with a time of 2:06:39. He won second place in the Amsterdam Marathon and Seoul International Marathon last year, with times of 2:08:40 and 2:07:43, respectively. His ultimate goal is to become a member of the Kenyan national team and win a gold medal in the Olympic Games.