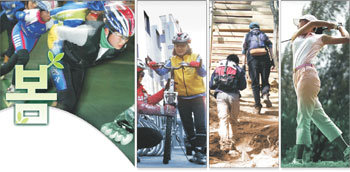 Inline skating is a sport that mobilizes your whole body. While enjoying the pleasant speed, you can make your body fit. In particular, it is very good for improving alacrity and the function of body balancing, so it is recommended for growing up children.
It also strengthens hearts and lungs, and facilitates the blood circulation. If a person weighing 65 kg inline skates one hour, he or she burns 440 calories. The intensity of this exercise is equal to wild aerobics or one hour of jogging at a speed of five or six km per hour.
If you think inline skating is not physically challenging enough, you can also tie sandbags onto you as you skate.
Putting a sandbag weighing 0.5 kg on both your thighs and wrists will intensify the muscle-strengthening effects of the exercise. "Interval training" is another way to accelerate the workout effects. This is when you run fast for five minutes and go slowly for five minutes.
Some inline skaters do not wear a helmet and safety pads for knees, elbows and wrists for the reason that these hamper creating stylish looks. The beginners need to learn how to stop before running. It is strongly advised that beginners should learn the proper way to fall down and the right skating posture from experts before skating.
The advantage of riding a bike is retrieving rhythms and enervating your body and mind. With a relaxed mind, push the pedals at a quiet place where no heavy traffic exists, such as riverbanks and parks.
A regular biking regimen reduces the amount of cholesterol inside your body, so it helps prevent obesity and high blood pressure. Also, it activates the function of sugars in insulin and prevents diabetes. Besides, biking increases muscle and bone capacity for holding oxygen, so it is very beneficial for intensifying endurance.
For those who want to extend the muscle-strengthening effects of biking, it is recommended to wear a back pack weighing two or three kg. However, this is only applicable to people who have no pain and problems in their backs and joints. And, the backpack should not be too heavy.
Bikers should be careful not to get dehydrated and sun burned. Carry a bottle of water on the bike and drink from time to time. Make sure to apply sun block to those spots exposed to the sun such as the face, hands, and thighs.
When people think of hiking, they usually picture going up to famous mountains carrying a big backpack. Some people go hiking every week, but they need to work out during the week, too. If not, it does not much do for preventing cardiovascular diseases.
Rather, it brings more benefits walking up to nearby hills in the mornings and evenings for one hour.
Needless to say, no hobby is better than weekend hiking for relieving the week's stress. A person who has trained muscles for endurance through hiking easily can reduce chronic fatigue. Running or jump-roping 20 to 60 minutes over three times a week is recommended for supplementing oxygen-utilizing exercises.
If some of you go hiking only on weekends, you should go at least two times a month. If you lose touch in hiking, it becomes very challenging. When people stop doing exercise for more than three weeks, their capacity for muscle power and lung endurance drop by 10 to 30 percent. If the interval for hiking extends, it instead adds to fatigue rather than giving pleasure to hikers.
If you intend to have hiking as your hobby, you need to prepare yourself physically. For the weekends that you cannot make it, try to substitute hiking with other exercise. When you have enough time, it is better to make a habit of walking up stairs for a few stories than using an elevator.
It is known that golfing has less of a workout effect compared to the time invested in the sports. However, golfing is a good exercise mobilizing the whole body's muscles when one's posture is correct.
Making 200 swings with good posture at a golfing practice facility will bring you as much workout effect as walking up stairs for 20 minutes. It is better to move on foot in the field rhythmically, with a relaxed mind.
When golfers do not use a cart, they supposedly walk 10,000 steps per match, so this can be a good oxygen-utilizing exercise.
(References: Professor Jin Yeong-soo from the Sports Health Medical Center at Asan Medical Center, Professor Park Hoon-gi from the Sports Clinic Home Medical Department at Hanyang University Hospital, and Coach Park Seong-il from the Kia World Inline Skating Team.)
TK Sohn sohn@donga.com