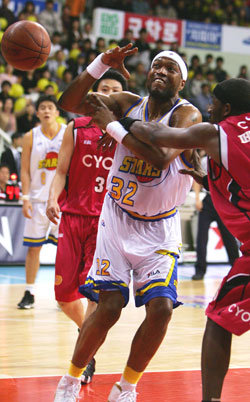 The LG Sakers, the lowest-ranking team in the league, stopped the SBS Stars from grasping their 16th straight victory.
The Sakers won, 107-89 against the Stars in their last game in the 2004-2005 Anycall Pro Basketball regular season held on March 11 at Anyang Gymnasium.
The Sakers (17-37) remained in the lowest slot, but ended a three-game losing streak by winning their last game of the season. Depending on the results of the ETland Blackslammers vs. Mobis Phoebus match on March 12, the Sakers even have hope for moving up in the rankings. The Blackslammers, who are second-to-last in the standings by 0.5 games, may fall to the lowest spot if they lose to the Phoebus, since they are behind the Sakers in offense-defense ratio.
The Stars (33-21) ended the season in third place and will start the playoffs against the sixth-ranking team on March 19. The Daegu Orions and Samsung Thunders are currently ranked fifth together.
With the outcome of this game, the first through fourth-seeded teams have been settled: the TG Xers, KCC Egis, SBS Stars, and the KTF Magicwings. The Xers and Egis will head directly to the semi-finals without going through the first round of the playoffs.
Sakers head coach Park Jong-cheon said, "I had a hunch that Penigar would do something." His prediction turned out to be true.
Desmond Penigar, who had been with the Orlando Magic in the 2003~2004 NBA season, and who had been a top-scorer in the NBDL, the NBA's minor league, boasted before the game that he would "stop Dontae Jones," as if his pride had been hurt by his team's poor performance. Scoring 40 points, including eight three-pointers, Penigar led the team to a huge victory with amazing power.
The Sakers had a shaky start, overwhelmed by inside and outside shooting from Stars Thomas Burrough, Yang Hee-seung, and Lee Jeong-seok, and fell behind in the first quarter, 19-29. However, the team rallied to close the score to 35-38 in the second quarter, and with Penigar's explosive three-pointers and his 40 points, was able to achieve a huge come-from-behind victory. The Sakers were able to turn the score to 43-40 with Penigar's eight consecutive points at the beginning of the third quarter and ended the quarter, 75-57, almost sealing the victory.
The Stars' Jones scored 29 points, surpassing Nate Johnson (Orions) to become the league's top scorer with an average of 29.3 per game, but cannot be officially recognized as the number one scorer because he has not played the required number of games.
Won-Hong Lee bluesky@donga.com