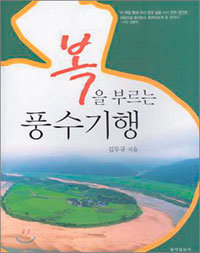 ◇ A Feng Shui Journey into Luck/ written by Kim Doo-gyu/ 334 pages, 12,000 won, published by Dong-a Ilbo…
"The effect that climate has on one's metabolism is immense. Choose the wrong place and climate, and one will not be able to achieve one's means."
These are not the words of a feng shui scholar. These are the words of Nietzsche, the philosopher who said, "God is dead." Nietzsche couldn't have known about feng shui, but in a piece of writing titled "The Reason for My Brightness," he mentions "place" and "climate" as reasons for his intelligence.
This book shows how a location and the people living there are related. The writer, a doctor in German literature and a feng shui practitioner, explains how the individual, group and state have used the earth, by conducting field studies and historic research.
The notion of feng shui relates with various historic individuals. For example, the father of Empress Myeongseong of Joseon, Min Chi-rok, who had his grave exhumed and buried elsewhere four times due to Empress Myeongseong's pertinacity (Boryeong, Chungnam); former president Park Chung-hee's house of birth, which is said to have received the spirit and energy of a mountain as it lies at the end of a mountain's ridgeline (Gumi, Gyeongbuk); the house of birth of Singer Song Dae-gwan (Jeongeup, Jeonbuk) which appears as if a Korean nightingale is pecking a tree. These examples are explained whilst going from past to present.
The make up of this book, which includes detailed pictures and maps so that the whole family can go on a feng shui trip, is yet another merit of this book.
zozo@donga.com