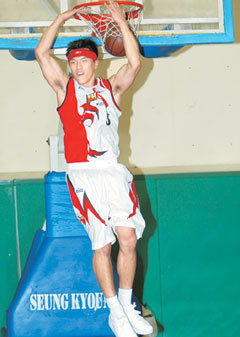 He had merely jumped in place but was easily hanging from the rim.
His jumping ability was certainly outstanding. The slam dunk, executed after a 360-degree turn in mid air, recalled the antics of NBA players.
Brian Kim (22, Guard, Korean name Kim Hyo-beom), who arrived in Korea on March 8, was assigned to the Mobis Phoebus as the no. 2 pick in the 2005 pro basketball draft. A veiled figure while playing for Vanguard University in Los Angeles, he showed off his "stuff" for the first time before Korean fans in the March 10 game at the Suwon Mobis Stadium.
Kim, who performed a varying succession of dunk shots during pre-game warm-ups, tested his teamwork with fellow Mobis players in a practice game that took place over 20 minutes during the first and second quarters. For the first 10 minutes for so, he had difficulty finding his place and scored a mere four points, but in the second quarter he piled on five consecutive three-pointers and racked up 24 points.
After his first glimpse of Kim's play, Coach Yu Jae-hak remarked, "He excels in offensive elements like shooting, passing, and dribbling," and said, "It looks like we'll be able to employ a wide range of strategies by utilizing Brian."
Kim's strengths are his natural physique and his jump. Although at 195cm he's not considered particularly tall among basketball players, his long arms give him an edge in dribbling and blocked shots. If he extends both his arms, they measure 205cm.
His Sargent jump exceeds 90cm. Teammate Woo Ji-won noted with envy, "That's really impressive. Players of his height usually have a jump of about 60cm."
The problem is defense. Coach Yu pointed out, "He has fast footwork, but lacks know-how, possibly because of the difference between Korean and American basketball." Mobis merc Adam Chubb advised, "In order for him to adapt to Korean basketball, which is much faster than American high school or college basketball, he needs to deepen his understanding of team defense." By concentrating on offense, Kim revealed his weakness in defensive posture, as well as in predicting the opponent players' movements.
Kim said, "The game flow was fast, and the physical aggressiveness was quite intense, contrary to what I'd heard." He added, "I'll do my best to learn, with the mindset of someone starting basketball all over again."
Jong-Seok Kim kjs0123@donga.com