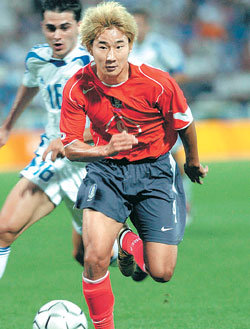 "Caliber" Lee Chun-soo (24, Numancia), who led the South Korean team to the semifinals in the 2002 Korea-Japan World Cup, may be seen again in K-League play.
The Ulsan Tigers have made moves in that direction after accepting Lee`s transfer conditions, and Lee also wishes to join the Ulsan Tigers, showing signs of his possible return.
The Ulsan Tigers discussed the transfer with Lee`s agency, IFA, on March 8, and proceeded with a full-scale effort to conclude the deal that would send him to the Tigers. Lee`s return is to be contracted at $1,850,000 (approximately 1.85 billion won) in transfer fees and an annual salary of about one billion won.
The Ulsan Tigers said, "There are no big issues concerning the details for the transfer conditions except the salary matter." Lee`s salary is somewhat higher than expected, but following the decision of the team`s top-level officials, it will be accepted. If there are parts to be adjusted, there will be additional negotiations.
Ulsan is hoping Lee Chun-soo returns to his former team, the Ulsan Tigers, and has already made plans to keep him on the team for the long-term and promote him as the team`s franchise star.
Lee Chun-soo is also hoping to return to Ulsan. When it contacted the IFA, Ulsan received Lee`s wish to join the Ulsan Tigers, who had developed him.
With this deal, Lee will be returning to the K-League one year and eight months after his transfer from Ulsan to Real Sociedad in July of 2003 for $3,500,000 in transfer fees and an annual salary of $500,000.
Lee played in a total of 35 games and recorded two assists during his time at Real Sociedad. After his loan to Numancia, he did not make any offensive points, and with his injury, he was having a hard time being kept back as a "bench warmer."
Meanwhile, in the upcoming biannual Peace Cup Korea to be held in July, where worldwide football club teams will be participating, the IFA is planning for Lee Chun-soo to play with Real Sociedad.
Soon-Il Kwon stt77@donga.com