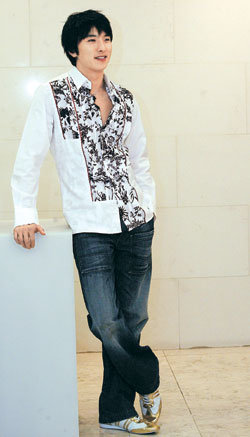 The name, Park Gun-hyoung, is new but strong. People who do not know that person will ask, "Who is it?" but anyone who knows him will be mad at the name.
Park Gun-hyoung (28) plays the main actor "Tony" in the musical "Saturday Night Fever." He is a musical star stealing audience hearts through his energetic and macho dancing and singing. He got attention from people while appearing on the screen through a TV drama, "Ms. Kim's One Billion Making," and a movie, "DMZ" last year, but he seems to have a real chance to show himself through a movie. He plays "Youngsae," a sports dancer, who feels love with a girl from Yenben (actress Moon Geun-young) in "Pure Heart of a Dancer," scheduled to be released in May. We met Park Gun-hyoung at night on March 5. We explained his story and the movie in three key words.
Body-
The strongest enemy to me is myself. I gain weight when I only drink water. I became large, up from 63kg (height: 183cm) while I was preparing for the second CSAT after I failed once. I had a part time job at a 24-hour bulgogi restaurant from 9 p.m. to 8 a.m. the next day. I ate meat a lot at midnight, at two, at four, and even at six o'clock in the morning. I weighed 76kg after 15 days. So I changed my part time job since I thought "this lifestyle makes me impossible to achieve my dream of becoming an actor" I sold cosmetics in front of the New York bakery in Kangnam subway station.
I conducted free skin tests to women passing in the street while displaying promotional products and samples of skin creams and lotions on the table. I was so shy that I could not come over to my friend's house when I wore a sock with a hole, so I chose the job where I had to meet many people to prepare myself to become an actor. I also thought that I needed to experience manly work, so I went to Sokcho city, Gangwon-do. I worked at a construction site to build a dormitory of Dongwoo University. I became 85kg when I played in various musicals right before my college (Seoul Institute of Arts) graduation. I had an audition with my weight for "Saturday Night Fever." I lost 15kg after passing the first test. I danced all the time when I did not sleep. I felt like vomiting. In the end, I succeeded in taking a main acting role. I make an impromptu guitar song whenever I feel difficulties in my life. The lyrics read, "Today is a very long day and difficult again… As if the sun rises again every morning…
Women-
I read a letter from a fan after getting down off the stage. The letter read, "I drove down Riverside Highway towards the north in Seoul after opening the car windows. There were a lot of fallen leaves on the street. I have to listen to Brahms after returning home. I made a strawberry shake. Then, I felt less gloomy than before. My husband also likes you." I thought the fan was a younger married woman with girls' sensitivity. But I found out she was almost the same age as my mom. The stage is a very unique and attractive space. It makes not only actors and actresses, but also the audience very special.
Dance-
Actress Geun-young (18) does not know "love." She told me all the time during shooting," I do not know the emotion of love." I recited a poem from the poet Hwang Ji-woo, "While I waited for you." I said, "Love is just like that feeling." The poem read, "The place where you are supposed to come/While I was waiting for you before you came/all foot prints that are approaching/make my heart beat." But I found out later she is an actress who reads books more than me. We had many similar situations all the time. I asked, "Have you read this book?" She replied, "Yes, have you?" I usually have female acting partners who are older than me. I met for the first time a younger partner thanks to this movie. Geun-young is 10 years younger than me. I thought she was just like a younger sister, but sometimes I found myself very frustrated when she looked at me with the eyes of Caelin, a movie character, not with eyes of a high school student in the third grade, Moon Geon-young. Then, I suddenly held back with embarrassment, thinking, "That's why many dancers marry their partners." She asked me without noticing anything, "Why your face is so brushed?" I heard for the first time that I am very greasy from people after I started dancing with Geun-young. Anyone who loved or loves someone knows the feeling. In your heart, you feel like that you already kissed, but in reality, you even do not grab her hands. However, dance is very different because the body sometimes moves as much as the heart.
Seung-Jae Lee sjda@donga.com