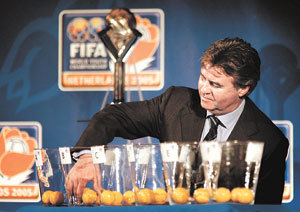 Seeded in the same group with four-time championship winner Brazil, the regional qualifying league champion Nigeria , and traditional European powerhouse Switzerland, the Korean U-20 (under 20-years-old) soccer team`s aim for the semifinal of the 2005 FIFA World Youth Championship now faces a major obstacle.
In the seed drawing ceremony held in Utrecht, the Netherlands on Monday, South Korea was placed in Group F with Brazil, Nigeria, and Switzerland. The first match against Switzerland will be held at 3:30 a.m. on June 13 (Korean time), with the second match against Nigeria to be held at 3:30 a.m. on June 16, and the third match against Brazil at 11:00 p.m. on June 18.
Twenty-four national teams, which survived the respective regional qualifying matches, are divided into six groups to compete for the championship. First, two teams with the best record from each group will advance to the semi-quarterfinal, with the third place teams from each group to compete to grab the four semi-quarterfinal wildcards.
The Biannual FIFA World Youth Championship was first held in 1977, and South Korea had its best performance in 1983 (Mexico) when it reached the semi-final. The country also made the quarterfinal in 1991 (Portugal) and the semi-quarterfinal in 2003 (UAE).
Park Sung-hwa, who participated in the drawing ceremony, said, "Although teams in Group F turned out to be tougher than I expected, since the South Korean team also made great progress recently, I still expect good results. I do not have much information about Switzerland, but Brazil and Nigeria are well-known teams. I would like to pick Brazil, Argentina, and Spain as championship contenders, while the remaining teams have similar capabilities."
Park Joo-young (FC Seoul), the starting forward for the South Korean team, said, "We can defeat any team if we participate in the training with more focus and a better mentality."
"If we defeat Switzerland in the first match and play even with Nigeria and Brazil, we can easily achieve our initial aim of making the semi-quarterfinal, and who knows if we can reach the semi-final?" he added.
Soon-Il Kwon stt77@donga.com