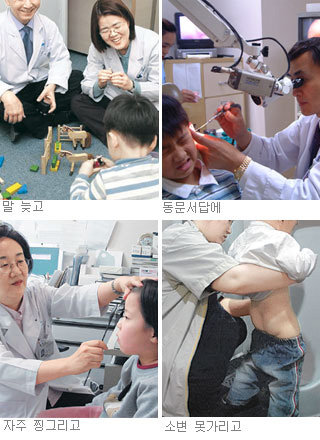 There are some two year olds who haven't started speaking yet and have been showing tardy responses. Feeling anxious, parents of these babies do not know what else to do but wait, merely hoping their offspring will not develop any abnormalities. Should they go and see a doctor? Would it be okay to leave them as they are? Those parents just feel frustrated. How should they deal with it?
Late talkers: careful observation is important-
On average, two-year olds have over 50 words, in their vocabulary and they try to make new expressions combining two words. For example, they join "mommy" and "milk" to make "mommy milk."
However, there are surprisingly many two year olds who haven't emerged to the speaking stage. Yet, it is useless worrying too much. It commonly happens that some babies show late speaking development as long as six months later than others, and they usually do not show any abnormalities.
Some babies show a good understanding of what parents say, but show difficulties in expressing themselves. This is also considered a kind of "retarded language development." When a mom scolds a child, saying, "How come you don't get what I am saying?" the baby experiences more difficulties in making expressions. Parents should not feel anxious, but rather clasp them in their arms.
Although babies can show aberrant development in language and behavior, it is not easy to evaluate the intelligence of babies who are less than three years old. So continuous observation of their behavior progress is the most important thing to do.
Diagnosis of hardness of hearing possible at age two-
When asked, "What's inside the cup?" a two year old does not look inside the cup. An adult speaks to a three year old, saying, "Let me play with you later," and the baby answers, "Okay, let's play." These children have a high possibility of hardness of hearing.
It is very difficult to diagnose whether a baby has hardness of hearing before he or she becomes 12 months old. When three months old, babies cannot listen to mom's voice. If they fail to turn their eyes to where sounds come from, they need intensive observation. Toddlers without any hearing problems usually imitate simple sounds such as "papa" and "mommy" at six months, and have simple word like "bye bye" when they are 10 months old.
The possible age for diagnosing hardness of hearing is four or five years old when one ear has a problem, and two or three years old when both ears have problems. Before they reach that each age, continuous observation is strongly recommended.
An intermittent squint appearing at age two needs careful observation-
"Intermittent squint" is a typical disorder between ages two and three that requires parents' heedful observation. It is less noticeable than the infant squint that appears within six months of birth. Double-income couples who send their toddlers to an infant home are advised to ask a teacher to see if their children show symptoms or not.
Toddlers having intermittent squint often show askance on their eyes in a bright place. When they take a look at one spot, they tend to close one eye. Upon seeing something, they often lose the track of the object and the pupil of one eye moves sideways when they are sleepy and absent-minded. They also don't meet their parents' eyes well when they face each other.
Some toddlers get an operation on the muscle around the eyes when they suffer serious symptoms. However, doctors see progress until they become four years old.
There is no fixed proper age for wearing glasses. If necessary, a one year old should wear glasses.
Bed-wetting is a developmental disorder: scolding can make it worse
Two year olds can get familiar with and be in control of calls of nature. Parents do not need to worry about their three or four-year-old bed wetter. But if young children over five years old wet their bed at night more than two times a month, it is highly possible the bed wetting is due to developmental retardation. Scolding for bed wetting can make the child feel mortified and make it worse.
Bed-wetting can be cured with medications and potty training, but it can reoccur when the curing is stopped. Diapering is not recommended. The important thing is training young children to go to the restroom by themselves at night. To make it easier for them, it is helpful to keep the light on in the restroom or prepare a toddler's bedpan.
(References: Professor Jin Dong-gyu of the pediatrics department, Professor Oh Se-yeol of the ophthalmology department, and Professor Park Gwan-hyeon of the urology department at Samsung Medical Center.)
TK Sohn sohn@donga.com