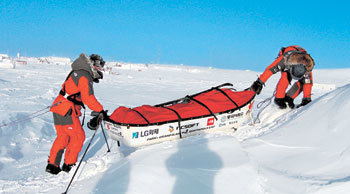 Team leader Park, Hong Sung-taek (39), and Oh Hee-jun (35)—members with experience—seem quite indifferent before the fierce wind of the North Pole, but members Jung Chan-il (25) and Kang Dong-seok (36) appear frightened and are huddled up.
The expedition members unpacked and arranged their loads as soon as they arrived. The food and apparatus mount up to fifty-nine 32kg bags, and the addition of four sledges pushes the total weight just over 2 tons.
The expedition will start on March 6. The expedition force will set off from Ward Hunt Island (latitude 83.12 degrees N), and will only receive their midpoint supply after March 26, when they have crossed the 85 degrees north latitude line. The four members have to carry a total of 400kg on the sledge, 100kg each. Only the most necessary items can be taken, to minimize the weight of the sledge. Acclimation training began on March 2. The rigidly frozen Arctic Ocean was more severe than expected. Not even five minutes had passed before their raccoon fur, not to mention the members' eyebrows and moustaches, was covered with ice.
The biggest obstacle in this North Pole expedition is the ice mountain and the lead (where the ice has cracked to expose the sea). Sweat fell in torrents as the members climbed an ice hill measuring roughly 3m in height. The drops of sweat froze immediately during a short break after the climb.
Team leader Park said with confidence, "It worried us at first that the light aircraft patrol results showed more leads this year than in the last, but we are well prepared and I have a good feeling about this expedition."
The Expedition team will undergo one more round of acclimation training on March 4, and then arrive at their starting point on Ward Hunt Island by light aircraft on March 5.
Park and his team are taking the world's first Mountaineering Grand Slam challenge (conquering 14 Himalayan peaks over 8000m, the highest peaks on each of the seven continents, and the earth's three poles). Their journey has now begun.
Chang Jeon jeon@donga.com