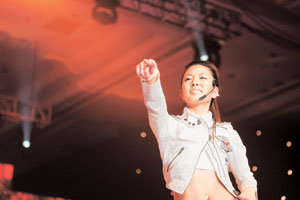 Four Years Since Advancing to Japan: From Girl to Woman, From Robot to "Boa"—
Singer Boa (19) is not the person she used to be. Her face has become leaner, almost to the point of gauntness, and her eyes have a new depth to them. Her vivacious, innocent charm is still intact, but the epithet of "young girl" no longer seems appropriate.
Appearances as not the only thing that has changed about her.
It's been four years since she made her Japanese debut in May 2001, back in the days when "Hanryu" (referring to Korean stars with pan-Asian popularity) was still an unfamiliar term. Perhaps she has found her peace of mind after conquering the Japanese music scene with one mega-hit after another. During the interview, her own voice seemed to come through in her every word.
Recalling her past self, Boa remarked, "I was like a robot. If you pressed a button, I started singing and dancing. In interviews, I said the same predictable things over and over."
Although she still follows the schedule set by her management, she noted that she voiced her own opinions on concert design, choreography, and costumes.
"Two, three years ago, I was anxious and insecure. I didn't know how my fans would react to my getting older. I worried about all sorts of things—whether I'd end up getting pigeonholed as a 'little girl' and become forgotten."
"Best of Soul" Sells One Million Copies in Three Weeks—
Boa's "best of" album, "Best of Soul," sold more than 500,000 copies in the first week after its release on February 2, to top Japan's Oricon album chart. Pre-orders alone exceeded 800,000 copies, to the amazement of the record industry, and on February 24, its third week in release, the album recorded over one million copies sold.
Considering the fact that the Japanese music industry is suffering a recession equal to that in Korea, Boa's star power is all the more impressive. Director Nam So-young of SM Japan, Boa's management company, said, "It confirms the depth of Boa's Japanese fan base."
"I think what appealed to audiences was the generic diversity of the album, from dance music to ballads," Boa noted. "I compiled it to be worthwhile as an addition to your music library. And the album's being bought by people of all ages."
The greatest hits album contains 16 tracks, including her previous hits "Listen to My Heart," "Amazing Kiss," and her collaboration with Japanese hip hop group Sold Out, "La La La Lovesong."
Boa singled out "Merri Chri," released late last year, as her personal favorite. She described it as the song that not only marked her transition from a predominantly dance-oriented to an all-around singer, but also gave her the confidence to take on the genre of ballads. "I'm comfortable when I'm singing dance music, but I don't intend to insist on it as a singer," and added, "I'll release one ballad song a year that really reaches the hearts of my fans."
With a four-city tour of Japan set to begin next month, Boa plans to release a single later this month.
The Original "Hanryu" Star Boa Has Become an Adult—
Thanks to the Hanryu wave, a steady stream of Korean singers and actors are dreaming the "Japan Dream" and knocking on the doors of the Japanese market. What does Boa, the original Hanryu star, have to say on the subject?
"The first year is the most important, and the hardest. I was well-known in Korea but a complete unknown in Japan. I'd sit around all day, waiting for calls from TV stations in vain… There were a lot of days when I'd pull myself together by rehearsing at the top of my lungs in an empty studio."
Stressing the importance of communicating with the fans, she pointed out that learning the language was a must. "Even though I'm young, I'm a veteran when it comes to making the move into the Japanese market. I'd like to help out if I can," she said.
Boa is all grown up, it seems.
Won-Jae Park parkwj@donga.com