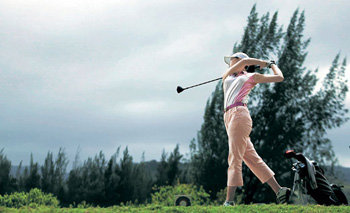 This season seems bright for 15-year-old Michelle Wie. In the third round of the 2005 LPGA Tour`s season opener, the SBS Open, held at the Palmer Course at the Turtle Bay Resort, Oahu, Hawaii, on February 27 (Korean time), Wie showed off her professional crisis management ability and tied for second place with a six-under 210. It is her best record in a LPGA tournament since her fourth-place finish at last year's 2004 Kraft Nabisco Championship.
Even though she failed to come from behind and win the tournament, Wie was the only person out of 75 qualifiers who succeeded in maintaining her record under par for three consecutive days. It is noticeable that Wie did not have any double bogeys for 54 holes played. After the event, Wie said that this tournament gave her confidence, and she realized what her weaknesses were. Jennifer Rosales of the Philippines became the champion with the record of eight-under 28. This is Rosales' second LPGA victory in her career. The difference between the champion and Wie was on putts. Wie had 90 putts and Rosales had 87.
The pivotal moment for Wie came on the five-par 551-yard ninth hole. She attempted to make a two on green with a three-wood, but the ball ended up falling into the rough on the left side. She managed to land the ball on the green on her third shot, about 18 meters away from the pin, and needed three more putts to get the ball in, recording a bogey.
"I was a bit over ambitious on the ninth hole. I had a better shot on the second shot with a five-wood to place the ball in the mouth of the green, but I chose a three-wood and exerted too much pressure on the ball," Wie said. If she had birdied the ninth hole like she did in the previous day, the match would have turned out differently.
Wie, still an amateur player, is not allowed to receive the 79,000 dollars of the prize money she earned because she is not a professional golfer. Wie said that she is not willing to play golf for money yet, reaffirming that she has no intention of turning professional at an early age.
Han Hee-won finished with a three-under 213 and tied for fifth, and Gloria Park finished seventh with a two-under 214. Ahn Shi-hyun shared 32nd place with a three-over 219, and the twin sisters Song Aree and Naree each finished 45th and 62nd with a five-over 221 and seven-over 223, respectively.
Young-Sik Ahn ysahn@donga.com