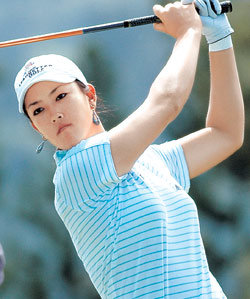 "I really want to do better tomorrow and win the competition."
It is the fourth year that golf prodigy Michelle Wie (Wie Seong-mi, 15) is competing in the American LPGA Tour, a realm normally for adults. She has been invited as a guest player 17 times up to last year. In 2002, when Wie was 12 years old, she failed to make the cut all three times she played in LPGA events, but in 2003, she participated in seven events and made the cut six times.
In particular, last year when Wie made the cut all seven times, she was admitted into the top ten of events twice, including the Nabisco Championship, a major competition where she recorded fourth place. Talks of winning the cup abound.
In the first round of the SBS Open (total prize money $1,000,000), held on February 25 at the Palmer Course of Turtle Bay Resort, Hawaii (par 72, 6,563 yards), Wie made a fresh start towards her first win, ending the round tied for seventh (2-under-par 70).
Wie, whose hits exceed 300 yards, held the driver only four times on this day, exhibiting her strong desire for victory. She rarely needed the driver since she was making 270-yard hits with a three-wood.
Starting at the 10th hole and making her first birdie at the 11th hole (par 4), Wie ended the first half of the event at even par. For the second half, she used a backspin iron shot, which makes the ball stop immediately upon landing, adding two birdies on holes four and six.
The climax was the ninth hole (par 5), the final hole of the half. A 310-yard driver tee shot curved slightly to the left and fell onto a semi-rough area behind a tree; her second shot that was aimed for a two-on with a four-iron hit a branch and also fell into the rough, but Wie calmly saved par by two-putting seven meters from the pin. This was a round in which Wie showed crisis management abilities that were much upgraded from the previous year.
Korea's "super rookie," Choi Na-yeon (17, SK Telecom), who played in the same group as Wie, failed to adapt to the unfamiliar green, and exhibiting putting difficulties, made a poor start, tying for 75th (3-over-par 75) place.
Among the 28 Korean players who had entered the competition, six made it into the top 10, including Im Seong-ah (MU), who finished with the highest ranking on the day tied for second (4-under-par 68), and Grace Park (Nike Golf), Han Hee-won (Fila Korea), Christina Kim and Kang Ji-min (CJ) were all ranked seventh with Wie.
Young-Sik Ahn ysahn@donga.com