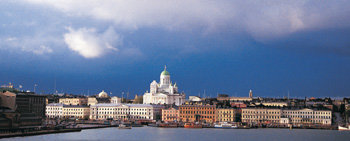 Kaivopuisto Park is a wooded park southwest of Helsinki Port. In front of a big fir tree, planted to celebrate Finland's independence, I remember the first few lyrics of "Sibelius Filandia": "Oh, Finland! Look at it. Your day is coming with brightness. The dark curtain is now lifted."
In Finland, which liberated itself from Russia's rule in 1917, there is no elaborate independence museum. There is only a single fir tree planted in front of Kaivopuisto Park. Would it be because there was no great architect or not enough money? No. Neither has it anything to do with a lack of patriotism. If there was willingness to outrun the once ruling nation, why would an independence museum be necessary?
A Country with Three S's: Sauna, Sisu, and Sibelius-
Finland, which is home to about five million people, is a model nation in various ways. Given the population ratio, it has the world's greatest number of libraries, orchestras, and choirs, where the highest number of the world's outstanding architecture is seen. It is a country with the most honest public officials, and the cleanest natural environment. In addition, although the Finnish speak English well, they call computers "tietokone" or calculators, strictly protecting their mother tongue from being polluted by others.
Making new operas could be a way to preserve one's mother tongue and also to embrace a higher reputation. The Finnish language is easy for singing just like Italian thanks to its clear consonants and vowels. Finland is one of the few countries producing operas. When Helsinki was designated as the capital of the European culture in 2000, as many as 14 opera pieces were produced in Finnish. Among them, Pavo Nurmi is famous. It is based on a story of a Finnish athlete by the same name who gained as many as nine medals in the 1952 Helsinki Olympics. It was a very unique opera, combining sports and music, as the Helsinki Olympic Stadium itself was a stage.
Finland is famous for three S's: sauna, sisu, and Sibelius. Of the three, "sisu" is a Finnish word for persistence, briefly reflecting the national characteristic of the Finnish. I think what made today's Finland must have been "sisu" based on their wisdom. When Finland was attacked by the Soviet Union in 1939 as a newly created nation sandwiched between powerful ones, it defeated it with no external help. During the Cold War, it took the maximum advantage of the political dynamism for its national interests. At the same time, it showed the world its strong cultural potentials, whose representative figures include Sibelius and Aalto Alvar (1898-1976), a musician and an architect, respectively.
Finlandia Triggering Stronger Patriotism-
For about 500 meters northwest of the famous Finlandia Hall designed by Aalto, I walk to Sibelius Park on the lakeside. The statue of Sibelius was created by Wäinö Aaltonen in 1967, which is full of exact expressions of creativity. It seems that the metal monument is a part of the typical Nordic nature, filled with fir trees and white birches. In particular, the image reminding me of a pipe organ seems to lead me to the music world of Sibelius.
It is "Finlandia," a symphony composed in 1899, just before the turn of the new century, which has been the world's most famous piece. It triggered stronger patriotism among the Finnish, who had never had their own independent nation as it had gone through the colonial period under Sweden, and consequently Russia. As Russia dreaded the spreading patriotism, the song was banned from being performed under the title of "Finlandia." Since then, the latter part of the piece, which was edited by Sibelius as a choir song, has been sung throughout the world.
Then I go into the downtown via subway from Sibelius Park. There stands a neo-classical big temple in the middle of the city, which was built on a hill near the Helsinki Port. Here I see a streak of sunlight from the darkest clouds hitting the top of the temple. There surely is a contrast of the white temple rising high and the dark sky. This landscape reminds me of "Finlandia," which starts as dramatically as a storm, and ends lyrically and romantically. In some way, it seems to symbolize the Finnish people's spirit to rival others, having wisely overcome their harsh reality.
By architect Jung Tai-nam
www.tainam-jung.com