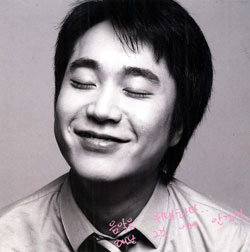 "Music is a mighty thing. Why did it take so long for me to realize this?"
Thus writes singer Jo Sung-mo (28) on the back cover of his sixth album, "My First," which was released earlier this month. He introduces this statement as "the observation he found himself articulating the most often during the two years he worked on the album."
"If I'd realized sooner how mighty music is, I would have been able to do better… I guess I was so immersed in myself than I ended up neglecting music itself. It sets my mind at ease now to think that there's still so much more music to be made."
This sixth and most recent offering by Jo Song-mo is entitled "My First." On the one hand, the name refers to the fact that this marks Jo's first effort as co-producer. But more importantly, it emphasizes the idea that he has poured his utmost into this album. This time around, Jo agonized more over the calibration of his emotional expression than about his vocal technique.
13 out of the album's 14 tracks are ballads. They are distinctive in that they can all be listened to continuously like a single extended song.
"Until now, my singing didn't go far beyond laying melodies over lyrics, but this time, it came right from the heart. I sang all the songs inside a single framework, so that they wouldn't clash with one another within the album."
Aside from the fast-paced "Festival," Jo's sixth album is filled with ballads that allow the listener to enjoy the mellifluousness of his voice. It has maintained the no. 1 spot on Media Sinnara's album chart for the second week, and its production company, Park Entertainment, noted that "over 100,000 copies have already been sold."
The title track, "Makes Me Cry," is a heartrending ballad that shows off the signature sweetness of Jo's vocals. The product of 36 hours of recording and eight separate mixings, this song alone reportedly cost 30 million won to produce. "Mr. Flower," the album's opening track, is based on Jo's own experience during high school, of waiting in front of the house of a girl he liked with a bouquet of flowers in his hand. He remarked, "The line, 'I want to show you my feelings will never wilt and wither,' recalls memories of own my innocence in those days."
Making his debut with the album "To Heaven" in 1998, Jo Sung-mo sold over a million copies of each of his first three albums. But sales for his fourth effort fell to 900,000, and his fifth to just 400,000, with the subsequent recession of the music market. Jo left GM Entertainment, which had discovered and raised him, and released his fifth album independently. Expectation was high, especially with Jo's decision to abandon his usual sweetness for shout vocals, but audiences were not particularly impressed. Regarding his slump, Jo said that it "gave him the energy to try harder."
"I'd be lying if I said I didn't pay attention to criticism, but I wouldn't have been able to find my own identity if I'd gone from one success to the next. And I certainly wouldn't have been able to make this album."
Ahn Jeong-hun, the album's other co-producer, explained, "When I first met Jo Sung-mo a year and a half ago, I felt that he'd lost sight of his original attitude and instructed him accordingly. With this album, we tried to return to his true strength—his smooth and honeyed voice—in order to stake out a distinctive territory for him."
Jo will hold a music video screening for "Makes Me Cry," which stars So Ji-sub and Kim Jeong-eun, on February 24 at 3:00 p.m. at Seoul's Broadway Theatre. He will also begin making television appearances on the March 4 episode of "Yoon Do-hyun's Love Letter" (KBS2, Friday at 12:10 a.m.).
Sun-Woo Kim sublime@donga.com