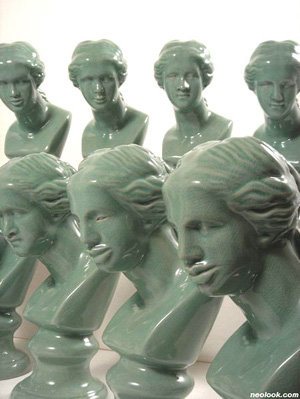 Art is About Living; Artists Who Opened the Era of the Korean-style Popular Art—
Abstractionism in the 1980s was divided into popular and minimalism art, and in the narrow margin of the two, young generation artists emerged, rebelling against "difficult" art. Like the American pop artist Andy Warhol, they have accentuated the art of "living" by creating artworks whose subjects can be found in everyday life. Now, pop art, which usually refers to the art using images contained within mass media, is the trend of Korean young artists.
One of them is Lee Dong-gi, who actively used popular images represented by cartoons and created "Atomouse." Another artist Seo Eun-ae painted her self-portrait on a pop art style screen that intentionally contains the images of cartoon books, Hwa-tu cards and altar portraits. This is her way of asking people in this modern society of their identity. Hong Jee-yeon also creates an exotic atmosphere by adding unique colors of pop art on the particular composition which reminds viewers of the traditional painting of birds and flowers.
Infinity of Materials—
An increasing number of young artists create beautiful art using various kinds of materials. For them, the canvas and paint brushes are not enough. Anything they can discover in their daily lives is brought into the art.
Ham Yeon-ju uses human hair for her works. Yoon Jong-seok's paint brush is a syringe. Choi So-young uses worn jean pants to reorganize the landscape of her hometown, Busan. Kim Jin-ran makes comforters and caskets out of soap and questions the meaning of extinction. Roh Sang-gyun makes huge artworks such as Buddhist statutes using plastic spangles. Jeong Gwang-ho makes beautiful flowers using copper wire. Kwon Hyuk uses threads, needles, and pins for his drawings.
Video, Technology—
Video art that delivers sensuous images using video has grown remarkably into one of the major art genres of today, and now its status is next to painting. As young artists have been fast to get accustomed to various mechanical skills and to absorb computer, digital, and video culture, they became focused on the variety of their video works that are good enough to keep up with the trend of the modern art of the world.
Kim Young-jin's video captures diverse images of daily life to display the philosophical theme of time and space. Kim Chang-gyeom is interested in the chaos and boundary that exist between the real and video images and attempts to show through slide projectors and videos. Gu Ja-young uses images she took from advertisement light boxes on top of buildings and questions the meaning of the entity and illusion. Choi Woo-ram makes mobiles using images of fossilized fish. Lee Han-soo attempts to show the dream, the fantasy, and the anxiety for a future technopia with his imaginative power of science technology. Ahn Su-jin criticizes ideology and civilization through her moving sculptures. These are the forerunners who have adopted sophisticated and mechanical techniques into the art.
Genre Dismantles. Fusion. Parody—
The work method of those young artists without the limit of materials and formality can be simply put as dismantlement and fusion. They have no stereotyped genre or techniques. For example, Bae Jun-seong composes vinyl drawings on photos. By compounding photos and paintings, he destroys traditional painting techniques and dismantles them. Then, he parodies masterpieces of eastern and western art history. Another artist, Moon Kyeong-won, presents the communication problem of modern people through drawing images. David Han, a Korean American artist, also parodies plaster figures, criticizing the standardization of the beauty of women.
Young artists have shown great interest in the genre dismantlement of oriental paintings. They have freely adopted various untraditional materials without the limit of genre and formality. Han Gi-chang cuts out X-rays and pasted them on light boxes or makes Oriental painting-style images with medical staples that are used to fix bandages. Lee Gi-young uses paint brushes of Western paintings and Chinese ink to express the beauty of the extremely moderated formality. Kim Jong-gu uses iron filling to paint Oriental style landscape paintings.
Mun-Myung Huh angelhuh@donga.com