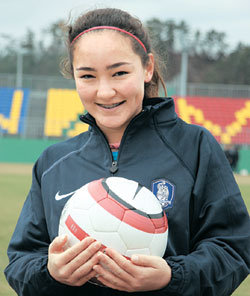 A promising female soccer player from the U.S. is aspiring to be a member of the Korean national soccer team.
Kate Edwards, aged 17, is training with the Korean national soccer team of young females under 17 in Sports Park in Namhae, South Gyeongsang province starting February 14. A student at West Lake High School in California, U.S., she is sparing no effort to become a player of the Korean national soccer team to represent the country of her mother on the international stage. She plays as a midfielder.
Her visit to Korea was made largely thanks to South Korea libero Hong Myung-bo, director of the Korea Football Association, who is taking a soccer administration course in the U.S. Hong saw a great potential in Edwards back in September of last year in the U.S. and advised her, "You should play in Korea." Director Hong said, "I recommended that Edwards go to Korea, as she displayed eminent play even though she trained only for two days a week."
Edwards, born to her Korean mother, Shim Joo-hyun, and a British father, is said to have amassed fine basic soccer skills since she started playing it at the age of six. At present, she is a promising member of the Olympic Development Program, a regular team for the American national youth soccer team.
Manager of the Korean national female youth soccer team Kim Jong-geon said after a close survey of Edwards, "With good training, she may grow into 'something,' as she has good speed and power." He went on to say, "I plan to select her as a member of our team when her nationality issue is resolved."
For her part, Edwards noted, "I have always wanted to be a player of the Korean national soccer team, not that of America, as Korea is the motherland of my mom. I have a very comfortable life here because my fellow players are so nice to me, and now I am learning the Korean language little by little.
Jong-Koo Yang yjongk@donga.com