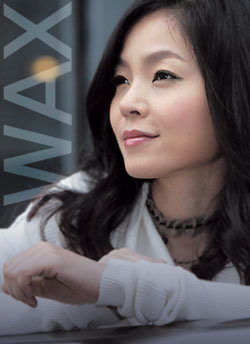 Like Wax (29• Real name Cho Hye-ri)'s song "Fixing My Makeup" in her second album and "Please" from her third, the title song of Wax's fifth album that was released in early February, "Don't Swear," is truly a "Waxy" ballad. The lyrics even express the broken heart of a woman, unable to forget her estranged lover.
"Don't swear/I don't want to listen/He really loved me/It is my fault he left/I love him, my love/Followed him everywhere so he left."
Reminiscent of her song "Brother" in the first album, and "Money" in her second, the fifth album stacks on upbeat dance songs such as "Pillow" and "Marry," completing a two-line system of ballads and dance songs.
On being asked if the fifth album resembles her previous works, she responded, "That's my unique color." Which color is Wax's?
"A natural vocal without any techniques is my color. Many people tell me that my voice has matured and is steadier. Now I think I can sing any given tune with the Wax ballad brand stamped on it."
Wax's songs do not contain any "bends" common in rhythm and blues, or ballad techniques like whispering. They do not bellow out loud, either. The unembellished radiation of her voice is plush and refreshing. Although easy on the ears, they are hard on the average persons' vocal cords for karaoke.
The 12 pieces on the album cut back on acoustics to amplify the lure of Wax's vocals. The popular woodwind acoustics that accompany most ballads is absent. Wax's voice is in charge.
The first track "First Week" also sings of a woman who has broken up with her wooer. She tells us the first week after farewell was fine, but as time passes she withers. "Don't Swear" reaches out to the 20-somethings, and "First Week" aims to jerk the tears out of listeners over 30. Along with "Bath," "Gift Shop," and other songs which target the hearts of women who said the final adieu, Wax confesses that Choi Jun-young's lyrics "all sound like me."
"Goodbye," a rock-and-roll style song with guitar acoustics, "Crime and Punishment" that screams of electronica, and lounge-like music "Welcome a Day" are among some of Wax's newest challenges.
Album producer Choi Jun-young says, "Many singers tend to exaggerate their songs with frills, but Wax sings so that she is comfortable to listen to," and tells us, "It is a common enough style, but her singing is never common, and that's what's going to appeal to her listeners."
The four regular albums and the one hit song album that Wax released after her solo debut in 2000 all sold over two million copies. The only female performers who had been able to record sales with figures this high after the millennium were Wax and Lee Soo-young. Sources at an affiliated company, J-entercom, say the orders for this album have hit the 100,000 mark.
Wax dreams of making it big performing in musicals.
"I want to be a singer who will always be next to my fans when they turn around, and sing whenever they need to hear me. I want my songs to settle into everybody's everyday lives."
To commemorate the release of her fifth album, Wax will hold a concert called "Wax in Theater" in eight parts from March 4-14 at Mary Hall in Sogang University, Seoul. Weekdays at 8:00 p.m., weekends at 6:00 p.m. 60,000 won. 02-543-5567
Sun-Woo Kim Chul-Min An sublime@donga.com acm08@donga.com