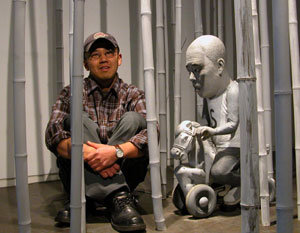 Artists' patronage-
President of the Arario Group Kim Chang-il (45), who is also running the Arario Gallery in Cheonan, Chungnam, recently made a contract with eight young artists in their thirties and pledged to provide full-fledged support to them. Kim, an artwork collector and an artist himself, announced that he had selected eight young promising artists and promised them support financially for studio rent and work costs, and to mediate exhibition opportunities in domestic areas and abroad. The contractors are the following: Jeong Soo-jin, Park Se-jin (paintings), Jeon Joon-ho, Gu Dong-hee (video arts), Kwon Oh-sang (picture setting), Lee Hyeong-gu (art establishment), Baek Hyeon-jin and Lee Dong-wook (sculpture). The designated artists will individually receive more than 50 million won in patronage per year from Kim. "Considering the fact that artists need a quiet, inspiring space for work, far from the crowded urban towns, I planned to purchase some land in Jeju Island and provide them with a studio," said Kim.
The art world was startled by the unprecedented patronage of the Arario Gallery. It is reported that some young artists, who belong to other galleries, also expressed amazement to the astounding contract conditions.
On the other hand, the Geumho Museum in Sagan-dong, Jongno, Seoul, which discontinued patronizing artists for the past three years, is resuming the practice of supporting young, promising artists starting this year. The gallery invited artists for the contest, and opted for 16 young artists including Woo Jong-taek, Choi Joon-gyeong, Jeong Jae-ho, Im Ja-hyeok, and Jeong Gyu-ri. The selected artists will be provided exhibition spaces and patronage for an art brochure and art creation from this March to 2006. Also, the gallery is searching for a spot for a studio where up to 10 artists can work together.
In the same context, the auction agency "Seoul Auction" is projecting to hold a "Cutting Edge" auction event two or three times a year, targeting contemporary art works of young artists, who have been recommended by galleries and art critiques. The agency explains that it will introduce 100 young promising artists and exhibit their potential.
An increasing number of exhibitions -
The worst season for art galleries usually falls every January and February. However, galleries are facing a different situation this year. A series of young artists' exhibitions are going jovially on several galleries and museums. As its first special exhibition, "Space C," located in Shinsa-dong, Gangnam, Seoul is holding a special exhibition titled "Remake Korea", prepared by a group of young artists. At this show, they are exhibiting art works featuring shapes and images used in Korean traditional arts. The exhibition will continue to March 26. The exhibition "Visual Epic" will run through February 26, which shows young artists' experimental art works that combine movies and arts together in the Gallery Sabina in Anguk-dong, Jongno, Seoul. At the Gana Art Gallery in Pyeongchang-dong, Seoul an exhibition called "Nine One Man Show" will meet the audience from February 16 to 27. The show will present nine young artists` art world, who have worked one year at the Gana Art Gallery: Kim A-ta, Yang Mahn-gi, Park Eun-seon, Goh Nak-beom, and more.
Why are young artists in the spotlight?-
First of all, the demand for arts has increased. Foreign art fairs have contributed the most to expanding the demand. The CEO of Kukje Gallery, Lee Hyeon-sook, explained, "Although Korea is now facing an economic recession, young Korean artists have been proving their competitive powers in the world market, which is in a prosperous condition." According to painting traders, Korean art works are competitive in terms of price, so many domestic art collectors are turning their eyes to domestic art works. "Nowadays, collectors are experiencing a challenge from a limited group of mainstay artists and are trying to look for fresh works of new artists as an alternative," said Lee Ok-gyeong, representative of the Gana Art Center.
Also, the demands for modern paintings have played a part; as high apartment buildings are on the rise, plenty of residents are trying to change the decor of their interior spaces with modern works in a move away from classical, plain paintings. "When I moved to a new apartment, I thought of hanging my collections of mainstay painters, but it felt boring. So, I hung young artists' fresh paintings and photos that I recently purchased," said homeowner Lee Seong-shil (57 years old, Dogok-dong, Gangnam-gu, Seoul).
Mun-Myung Huh angelhuh@donga.com