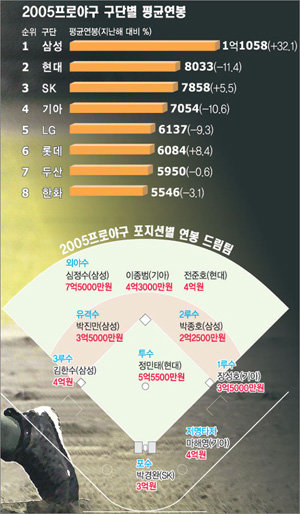 What would it be like to have a pro-baseball dream team composed of the highest paid players at each position?
According to the Korea Baseball Organization's (KBO) February 14 announcement of players registered for the 2005 season of pro-baseball, it takes 4.16 billion won to make a 10-player "highest-salary dream team."
This surpasses the total salary (3.856 billion won) of all 48 players on last year's championship team, Hyundai. The highest-salary dream team's average salary of 416 million won is 5.8 times that of the total average (71.77 million won).
Shim Jung-soo and Chung Min-tae are the top-ranked players-
Pushing aside Samsung's Lim Chang-yong (500 million won), Hyundai's Chung Min-tae (555 million won) secured his number-one place in the pitching category despite the fact that his salary was reduced by 25 percent. SK's Park Kyung-wan (300 million won) barely kept the lead over Doosan's Hong Sung-heun (280 million won) to be the top-earning catcher this year. Kia's first-baseman Jang Sung-ho (350 million won) outpaced Samsung's Yang Joon-hyuk (330 million won), and Samsung's third-baseman Kim Han-soo (400 million won) outpaced Doosan's Kim Dong-ju (320 million won) in the salary race. The top-earning outfielders were Samsung's "salary king" Shim Jung-soo (750 million won), Kia's Lee Jong-bum (430 million won), and Hyundai's Jeon Joon-ho (400 million).
Samsung's average annual salary is two times that of Hanhwa-
There is now a saying that once a player wears a Samsung uniform, he will receive an annual salary of 100 million won even if he warms the bench all the time. Samsung was second to Hyundai in terms of player salaries, but with the arrival of stars such as Shim Jung-soo and Park Jin-man, the team`s average salary skyrocketed to 110.58 million won. This shows a growth rate of 32.1 percent. On the other hand, the lowest-salary team, Hanhwa, showed an average salary of 55.46 million won, which is about half that of Samsung. It is recognizable that Lotte, the all-time lowest-tanking team, rose to number six in the salary ranks.
Much has changed since 1982-
Korean pro-baseball, now a full-grown youth, has shown amazing quantitative growth since it was launched in 1982. The average salary rose 491 percent, from 12.15 million to 71.77 million won. The players' average height and weight increased from 176.5 cm and 73.9 kg to 182.2 cm and 83 kg. Average age, however, decreased from 26 years to 25.6 years old.
By team, Doosan is the youngest (average age 25), LG is the tallest (average height 182.8 cm), and Lotte is the heaviest (average weight 84 kg).
The oldest is 39 years old, the youngest is 18 years old-
The oldest player is Hanhwa's Song Jin-woo (39), old enough to be the uncle of the youngest player, SK rookie Choi Jung (18). Doosan's Moon Hee-sung and SK's Lee Seung-ho (195 cm) are together the tallest players; they are 25 cm taller than the shortest, LG's Choi Man-ho (170 cm). Moon Hee-sung also tied for the heaviest player spot with Kia's Kim Jin-woo (110 kg). The lightest player is Samsung's Ahn Ji-man (65 kg). Hanhwa's Jang Jong-hoon is in his 19th season in pro-baseball, continuing his record as the longest-tenured player.
Hwan Soo Zang zangpabo@donga.com