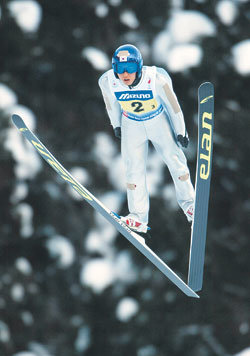 The Korean ski jumping team, which failed to win a medal in the Winter Universiad in Innsbruck, Austria, last month, brought news of victory for the first time this year.
Choi Yong-jik, a 22-year-old student in Korea National Sport University, won first place in the HS-117 category in ski jumping at the Continental Cup held in Brotterode, Germany, Sunday. He flew 109.5 meters in the first trial, and 123.5 meters in his second jump. With a combined score of 267.9 points, he won the event.
HS, or hill size, is a term introduced by the Fédération Internationale de Ski (FIS), or International Ski Federation, in order to subdivide ski jumping events. As the length of the takeoff table varies according to ski resort, the event was divided into HS-117, HS-134, HS-200 and so forth. HS-117 signifies that the standard flying distance of the takeoff table is 117 meters.
Choi's record of 123.5 meters is the best record ever produced at the Brotterode ski resort, which has 100 years of history, said Choi Don-guk, the head coach of the national ski jumping team.
This is the third time that the Korean ski jumping team has won in Continental Cup level action, which is a level below the World Cup. There are only six registered ski jumping athletes in Korea. Choi Heung-chul had won twice: in Schönwald, Germany, in March 2002, and in Calgary, Canada, in September 2002.
Choi Yong-jik started ski jumping in 1991, when this sport was first introduced in Korea. He was the member of Korean national team when the Korean team won eighth place in K-120 in the 2002 Winter Olympics in Salt Lake City, and won the gold medal in K-90 in the 21st Winter Universiad in Tarvisio of Italy.
He forecasted this brilliant feat in the Continental Cup held in Braunlage, Germany, on February 6 and 7. In Braunlage, he finished fourth and second in the HS100 competition on each day.
Other Korean skiers, Kim Hyun-gi and Kang Chil-gu, who are also students at the Korea National Sport University, performed well, as they finished eighth and 16th out of 73 competitors.
Sang-Soo Kim ssoo@donga.com