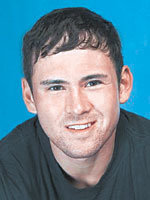 Korea has a professional, Korean-born bicycle rider who ranks in the top 10 of the bicycle stunt field. The man was born to a U.S. soldier stationed in Korea (an elementary school teacher) and a Korean woman (Kang Sun-neou), and his name is Tom Hogen (30). He is currently second to none in the "tail whip" skill.
A "tail whip" is a skill in which a bicycle rider powerfully spins the rear wheels while keeping the bicycle's handles fixed. This skill is one of the most dangerous, and in the semicircle arena, he who excels at this skill is a top stunt rider.
After becoming a professional player in 1998, Hogen participated in the LG Action Sports Cyon Championship held in Seoul that consisted of only the top ten players, last October.
Recently, he e-mailed one of the event officials and said that he was a Korean-born man and felt very good in his "second hometown." This marked the first time that his Korean background was reported. The Donga newspaper took a sneak peak into the professional X Games players' world through an e-mail interview with Hogen.
-When did you learn to ride a bicycle and how did you become a professional player?
-"I just liked riding a bicycle. Since I was 10 years old, I practiced tricks in the yard for fun. When I was a senior, I became a professional (1998) after dropping out of university. At the time, I was majoring in sociology and held a part-time job packing clothes in a warehouse. Now, I don't have any regrets because I do what I want to do. I will ride a bicycle for another five years, and then, I want to open a business."
-Tell us about training and your schedule of events.
"As a professional player, I devote seven to eight hours of training a day. So far, I've been injured about 10 times. Sometimes it has been serious, sometimes not. Of course, it's not an easy job. I take part in every kind of event or game, about once in a week. I go abroad for matches several times (a year) and go on tour in about 30 states in the U.S. a year.
-How much do you earn?
"I can't exactly say, but it's obvious that I earn much more money than my friends who work. I get a lot of sponsorships, so this is okay to live on."
-Are there other Korean-born players, and are there advantages in the X Games for being Asian?
"I haven't met any Asian players, yet. One's individual effort is most important in this field. Race doesn't matter. It was my second time visiting Korea last year, since I went there to meet my mother's side of the family when I was very young. As fascinating as the X Games field already is, I hope that many great players come from Korea, my mother's country."
Chang Jeon jeon@donga.com