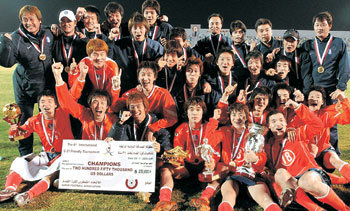 The strength of the Korean Youth National Team is that its players are usually not timid when they face strong teams because nine of the 22 players on the team have already advanced on to professional teams early in their careers, and they have had plenty of actual game experiences. Moreover, the current team does not represent 100 percent of its capability; starting defender Kim Jin-gyu (Jeonnam) was drafted to the National Team's field training in the United States, and Lee Gang-jin (Tokyo Verdi), Cho Won-gwang (FC Sochaux), and Oh Jang (FC Tokyo), and starting goalkeeper Cha Gi-seok (Seoul Physical Education High School) could not join due to their teams' schedules and his injury, respectively.
Honam University coach Shin Yeon-ho, who scored the most goals for his team (three goals) in 1983, evaluated, "The Youth National Team then had excellent mobility and organization as well, so it could fight against European and South American teams whose players outraced Koreans in terms of stamina. The current team members have stamina and individual skills in addition to the strengths back then." He added, "You should never rely too much on individuals. If teamwork can be developed, I believe that they will be able to make top four."
Coach Kim Jong-gun of the Women National Team (U-17), who coordinated offense and defense as a middle fielder back then, picked "reliable goal making capability" as the current National Youth Team's strongest merit. Kim said, "Although it is difficult to make direct comparisons as soccer tactics have dramatically changed since then, it is impressive that the offensive players are fast, thereby making many goal chances, and that they do not miss those chances." He did not forget to add advice, saying, "There is no vivid playmaker and it is very urgent to strengthen the organization of the defense."
To the criticism that Coach Park Sung-wha, who embraced the championship in the first actual tryout of the year, depends too much on Park Chu-young, he replied, "You may say so because Park scores a lot, but if you take a look at his plays, the goals were made together with other players. With the world competition ahead, the greatest harvest was that the young players strengthened their adaptability against European and African teams."
The Youth National Team will move to Syria on January 27 and have two evaluation games with the Syrian Youth National Team. Then they will go to Spain and have consecutive evaluation matches with Athletico Madrid's youth team and Real Madrid's B team and continue their hard work to revive their team's top four legend.
Sang-Ho Kim hyangsan@donga.com