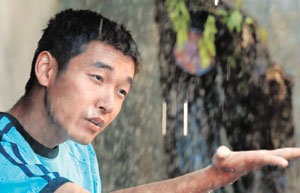 The movie "Mal-ah-ton" is about an autistic man's triumph as a human. The movie softly wakens a forgotten, subtle, and yet important sense. It is the sense of touch. The movie tickles its audience. Grass that touches past your fingertips, heartbeats that you can feel through your palm, winds that blow past your eyes, and raindrops that lightly pound your forehead…. The source of influence and sensation of the film is that it makes you once again feel the greatness and beauty of those small things. Like Cho-won, the autistic runner in the movie, says, the senses we get by touching those things make our hearts "beat." The story is amusing, amusing on account of being amusing, sad on account of being humorous, and deeply touching on account of being sad.
Cho-won is an autistic (Jo Seung-woo, photo) whose obsessions include zebra and Choco Pie. He turned 21 but is five years old intellectually. Kyoung-sook, his mother (Kim Mi-sook), wants to train her son, who has the potential to be a runner, for "sub three" (finishing a full marathon within three hours). One day, Jeong-wook (Lee Ki-young), who was a famous marathoner in his day, comes to Cho-won's special school to perform community service as a result of a drunk driving charge. Kyoung-sook forces Jeong-wook into coaching her son. Jeong-wook is a world-weary person but in time gets to open his heart to Cho-won.
In fact, moviegoers can predict how the story will go and come to end without actually going to the movies. The story and setting are that much passé. But "Mal-ah-ton" produces strong and resonant energy by combining too commonly used elements piecemeal. The credit has to go to Jo Seung-woo. Jo Seung-woo succeeds in giving quite real and special feelings by fidgeting and pronouncing every syllable of his words, which otherwise could have been very flat, when he utters, "I do not fall down. Cho-won will not fall down." Instead of trying to mimic an autistic person, Jo transformed himself into one.
Mom: "Cho-won's legs are worth what?"
Cho-won: "They are worth one million dollars."
Mom: "And your body looks?"
Cho-won: "Awesome."
The movie is driven by "repetitiveness." The conversations above between the mom and son are repeated several times. At first, the repetition is funny and then a tearjerker, and finally something dawns on the audience. The movie puts similar lines and actions into different and more profound situations to make viewers feel and think themselves, which is a highly sophisticated plot. The same formula applies to Cho-won's two obsessions: Choco Pie and zebra. Those two are his favorites and, at the same time, get him into trouble. Ultimately, Cho-won has to overcome those things. In the process of breaking himself from the two, Cho-won grows to communicate with the world, and his mom and the coach can find their true lives.
"Rain pours." "My heart beats." These are so plain but creepily touch your hearts. With the repetition of some lines and words, the audience naturally lets their emotional guard down. The weird experience of crying for the very reason why that person laughed…. Just as Cho-won takes time to write "4.2.1.9.5," the length of the full marathon course on his left arm, the film, too, neither scurries nor forces when getting down people's emotional barriers. Those who have patiently run "4.2.1.9.5 kilometers" as the movie shows come to run into a truly memorable expression on Cho-won's (or Jo Seung-woo's as a human) face: "Smile!"
Kim Mi-sook acted in a movie for the first time in 23 years. She gave up her elegance but brings together tenderness and strength. She created another unique image of a mother different from Kim Hae-sook's ever-strong and tough image in the movie "My Brother." The title "Mal-ah-ton" came directly from the word used in the "things to do" part of Cho-won's drawing diary. The film is director Jeong Yoon-cheol's first long piece. The movie will be released on January 27. All age groups are allowed to watch the movie.
Seung-Jae Lee sjda@donga.com