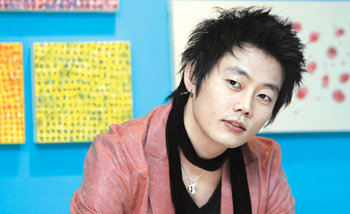 Twenty-two-year-old singer Tei (22, real name Kim Ho-kyung), who stepped into the spotlight last year with his hit song, "Love Leaves…a Scent," will release his second album on February 1.
Tei said, "My voice was an imitation of a singer whom I liked in my first album, but I learned how to vocalize naturally on my second album and found out how to grasp my own color."
"I can now let out a solid voice. I was able to find my own unique voice when I cut back on throaty tones and became more emotional. It's monotonous when I emphasize a deep voice. Your taste buds become numb to sweetness if you eat too many sweets. I believe my voice became more moderate for greater taste."
The second album is titled "Uchuprakachia." It is an imaginary plant with the same name in a novel by Kim Ha-in, which dies when touched, but revives after the same person falls in love and caresses it. It reflects Tei's wishes for his fans' continuous love after his first album sold 110,000 copies.
Although there are pieces with fast-paced beats, the 14 songs of "Uchuprakachia" are all ballads.
The title song is "Love is…One." Both the resounding sound of a 32-person orchestra and the tender melody from the oboe are impressive. The distinctive lyrics comprised of conclusive sentences such as "is…" or "be…." Tei explained, "I thought the mood and title of this song will be reminiscent of my debut single 'Love Leaves…a Scent,' so I injected more richness of feeling."
One piece called "One Day" was accompanied solely by a piano to give prominence to Tei's gravely yet passionate vocals. The sound effects of rain add to the feeling of sadness. The song captures an impromptu free-beat style that is not restrained by the score. Tei wrote the lyrics with his own pen.
"Memory" is a clear yet powerful song. It flows smoothly, but the rhythm is controlled by "solid vocals." "Rust" comes together in a harmony of a classic guitar with an orchestra and Tei's deliciously appealing voice.
"I'm satisfied with the songs and vocals. When you listen to it, you will hear the improvement."
Singers are usually plagued by a "two-year hiatus jinx" with the release of their second albums. Tei brushed it off, saying, "It didn't bother me," but poured his efforts into the album after finishing his debut appearances last summer. He never touched alcohol after September and received vocal lessons daily from songwriters such as Hwang Se-joon and Choi Sung-il. Tei would enter the recording studio at 8:00 p.m. and sing until daybreak. For this reason, Tei developed a node in his vocal cords and was unable to perform for his first single year-end concert.
Hwang Se-joon, who wrote "Love Leaves…a Scent" and "Love is…One," said, "We thought that Tei lacked in expression because of his passive personality, so we let him sing whichever way he wanted and let him find his own unique voice." On Tei's voice, he rated it "a simultaneous blend of Lim Jae-bum or Park Sang-min's rough bellow and Jo Sung-mo's warm trill."
Tei will promote his second album on January 27 by greeting viewers live on "Zl Concert," airing on the internet portal site Daum. On January 30, he will begin his TV appearances with "Live SBS Popular Song," which airs on Sunday at 3:50 p.m.
Sun-Woo Kim sublime@donga.com