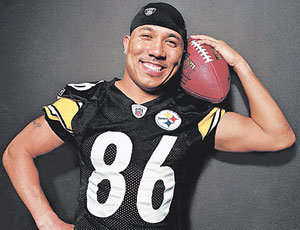 "Without my mother, I am not what I am now."
Hines Ward (28, Pittsburgh Steelers) is the half-Korean "star" of the NFL. In the January 24 issue of "Sports Illustrated," he honestly said that despite an unhappy childhood, he grew to be a top wide receiver of the NFL thanks to his mother, Kim Young-hee (55).
He also said that when he was one year old, his father, a member of the USFK, and mother got divorced. At that time, the divorce court decided to take away custody from his mother. The court awarded the right to his father because it concluded that his mother was not proficient enough in English and thus unable to raise a child. But Ward went to live with his mother when he was a second-grader of high school.
"Mother had to work from early in the morning until early in the morning the next day to raise me. She had three jobs a day as a dishwasher at the airport, a cleaner at a hotel and a clerk at a grocery store. Leading a difficult life, she never wavered. I am what I am today largely thanks to her. I would never be able to return that kind of love."
His mother taught him "humility," a thing that will never be forgotten.
"She tells me to be 'always humble.' She still works at a high school cafeteria and they think she is one of the most hard-working employees. I am so proud of her."
He told the magazine how he got to play three positions including running back, quarterback, and wide receiver at Forest Park High School and the University of Georgia, and talked about an episode when Steelers coach Bill Cowher spat on him.
Meanwhile, the Pittsburgh Steelers lost their final match in the AFC to the New England Patriots, last season's champion, 27-41, disqualifying itself for Super Bowl. In the NFC, the Philadelphia Eagles defeated the Atlanta Falcons, 27-10. On February 7, the Philadelphia Eagles will compete against New England for the Super Bowl champion title.
Jong-Koo Yang yjongk@donga.com