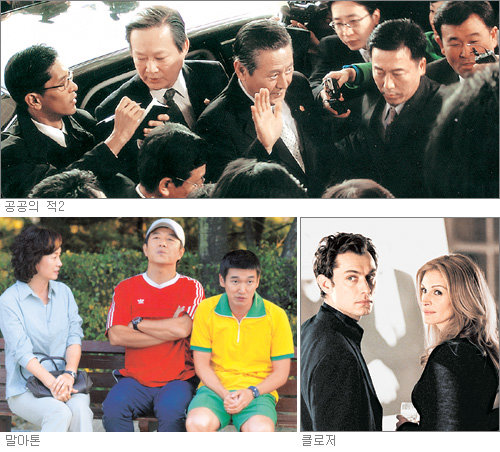 Realization of Justice vs. a Marathon that Delivers Hope-
The movie "Public Enemy 2", which has brought ardent public interest from the beginning of the shooting, finally opens in the theater this coming Thursday, January 27. The movie is Director Kang Woo-seok's recent work since his milestone record of mobilizing 10 million in audience viewers with his movie, "Silmido." Also aiding its popularity is that it's a sequel of "Public Enemy" (2002), and the title has become a popular term. Director Kang's prominent previous works have definitely elevated audiences' expectations of his movies, which is honestly a burden to him. In the first movie, the public enemy was set as a gangster who broke social rules. In the sequel, Kang differentiates the target by featuring a poignant public enemy who threatens the existence of Korean social structure through assassination, assassination instigation, embezzlement, illegal dollar transfers abroad, bribery, illegal military duty exoneration and so on. Public enemy Han Sang-woo (played by Jung Joon-ho), who ostentatiously acts as if he were high class but is insensible to his heinous crimes, and prosecutor Gang Cheol-jung (Seol Kyung-gu), a super hero responsible for keeping the justice of Korea, will stand fiercely against one another in the movie.
The movie "It Rolls Up Ton" chose to compete fairly with "Public Enemy 2" as it planned to be launched to audiences on the same day. If "Public Enemy 2" appeals to the audience with its catharsis effects, the other film attempts to touch the audiences' hearts and emotions with a human drama about overcoming struggles. The movie shows how 20-year-old Yoon Cho-weon (acted by Jo Seung-woo) suffers with autism but still succeeds at knocking on the door of the world by devoting himself to a marathon. The strong point of the movie lies on the perfect combination of its casting of Jo Seung-woo, a big star in the musical arena, and a dramatic code that can strike multiple chords with the audience. It involves fortitudinous maternal love, the process of curing family conflicts, success after dogged struggling, as well as showcasing a recent popular sport, the marathon. With a high-toned voice, Jo naturally acts as an autistic patient, and his performance will make you laugh hard and cry deeply.
After breaking its low profile during the filming period, the movie "The People Back Then" (opening February 3) has appeared like a comet and has become the center of a social issue even before confronting the audience. This movie deals with an unforgettable event in Korean modern history, the assassination of President Park Jung-hee on October 26, 1979 at Gungjeong-dong. Consequently, the ex-President Park's son has filed a provisional disposition to the movie. It seems the movie will not escape controversy whether it is a realization of fact or a satire once it opens in theaters.
"My Boyfriend is Type-B" (opening February 3) stars two young celebrities Lee Dong-gun, who gained enormous popularity from female fans through his performance in the Seoul Broadcasting System's soap, "Lovers in Paris," and Han Ji-hye who played a partner of Lee in the Korea Broadcasting System's soap, "18 Year-Old Bride." It brings to the surface trendy issues among youth such as character tests and the prejudices of blood type "B" men, and develops fun episodes featuring the young stars. Lee Dong-gun plays a B-type young businessman, who puts high priority in looking stylish; although he lives in sweat-rooms (Jjimjilbang), he insists on driving a sports car. This movie is the only romantic comedy that can bring such a varied audience, from teenagers to the elderly, to the theater among the opening movies during the Lunar New Year.
Keanu Reeves vs. Jude Law-
The savior in the movie "Matrix" has now changed to John Constantine, who has literally been to the world of demons and angels and back, and he juggles to balance good and evil. Korea is the first opening country, opening even earlier than the film`s manufacturing country, the U.S., as the movie will be will be released on February 8. Constantine has a congenital talent of discerning mixed raced evils and demons, and decides to commit suicide to escape his destiny. However, he is revived and begins the task of returning demons back to hell in order to gain exemption from going to hell himself. In the back curtain of such an action film, this movie contains serious topics such as good, evil, heaven, and hell.
Will there be only one chance for destiny and love at first sight? How long does the love of destiny last? Is fate a serendipity or a heavenly planned project? The movie "Closer" (opening February 3) stars Julia Roberts, Jude Law, Natalie Portman, and Clive Owen, and it has already earned a certificate crediting its quality by Portman and Owen winning supporting actor awards at the Golden Globe Awards. Jude Law, who writes obituaries for a London newspaper, falls in love with an American strip dancer, played by Natalie Portman, on his way to work.
Several animation movies targeting the Christmas season have been swept away. At this vacant time for animation, DreamWorks is preparing to present a fantasy and adventure movie for families, "Lemony Snicket" (opening January 27). Another movie, "Flight of the Phoenix," starring Dennis Quaid (opening February 4) is a film in which Phoenix is the name of an airplane that attempts to fly again while at the risk of losing lives. After the plane crashes in the Gobi Desert, only 10 passengers manage to survive. Survivor Elliot, who claims himself to be an airplane designer, suggests making a new airplane using the wrecked pieces of the old plane.
For those who want to abstain from rowdy theater streets, some artistic movies await you. The movie "Ten Minutes Older: The Cello" by eight master directors who each sketch a various aspect of life for 10 minutes will meet audiences on January 27 at Hyperteche NADA (an exclusive theater for artistic movies), Dongsoong-dong, Seoul. This season, you can also meet a New York director, Woody Allen, and his work. In the movie "Anything Else (2003)," Woody Allen is busy counseling his younger friend, who falls in love with his friend's girlfriend, and succeeds in messing up by ruining a friendship and dumping his girlfriend. As always, Allen's scintillating wit easily gets covered up by his mumbling and loquacious dialogues, so don't forget to pay full attention.
Eun-Ryung Chong ryung@donga.com