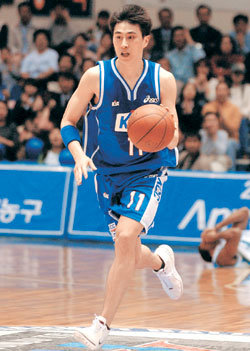 Pro basketball team KCC's Lee Sang-min (33). Way into his thirties, married for seven years, and father of two.
This is enough for basketball fans to lose interest in him. However, his popularity is still unmatched.
For four consecutive years, Lee Sang-min has been receiving the most votes at the All-Star Best Five polls. Korean Basketball League (KBL) announced on January 21 that Lee Sang-min received a total of 100,613 votes, followed by Seo Jang-hoon (67,611 votes, Samsung) and Kim Seung-hyun (67,580 votes, Orions).
What makes this 33-year-old married player so appealing?
"I really don't know why. Last year, I created a homepage and closed it soon afterwards, and perhaps my fans like this mysterious image; hiding behind a veil instead of revealing everything about myself." Lee Sang-min said, "Some fans say they enjoy digging up bits and pieces about me."
How does his wife, Lee Jung-eun, think? She said, "He has the ability to make a three-pointer or an assist at a critical moment, turning the table around on the game. Also, he has not lost his passion for the sport after more than 20 years of playing; up to this day, whenever his team loses a game, he gets on the phone and talks about the details of that game throughout the call. These traits are probably what appeal to basketball fans."
Teammate Pyo Myoung-il and hardcore fan Park Mi-young have similar opinions. When asked what the keys to Lee Sang-min's popularity are, Pyo Myoung-il, his backup guard, said, "A clean image showing a good play based on his confidence," and Park Mi-young, a member of "Group of People Cheering Lee Sang-min," said, "The charisma to deal calmly with intense moments."
Is that all? Park Mi-young added, "Lee Sang-min has a face that is very appealing to female fans. They say he has a beautiful nose. Also, because he has a white face that gives him a youthful and neat impression, he is popular among young students." As a matter of fact, Lee Sang-min's nickname is "Oxygen Man."
Delicacy is also part of his charm. Lee Jung-eun, his wife, said, "When I am sick, he makes porridge for me in the morning and after leaving a message telling me to get some rest, he would go out with the children for a while. Since my birthday is in the middle of the season, we rarely get to be together that day, but he is always the first to say 'Happy Birthday' by calling me at midnight on my birthday."
Lee Sang-min seems to feel the burden of all the attention showered on him, saying, "A new star should come out to replace me for the next generation." However, the number of members in Lee Sang-min's fan-cafe has increased to twice that of last year. At this point, we should say "Cheers to Lee Sang-min."
Won-Hong Lee Jong-Seok Kim bluesky@donga.com kjs0123@donga.com