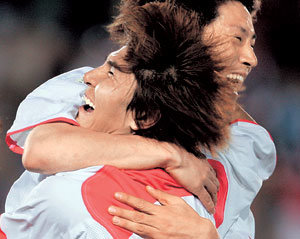 "National Team Youngest Defender" Kim Jin-kyu (20, Chun-Nam) collected a "redemption goal" to make up for the blunder he committed four days ago.
In the friendly match between Korea and Paraguay, which took place in Los Angeles Coliseum, U.S. on January 20, Kim Jin-kyu, who appeared in the game as a halfback, scored the tying goal from a free kick on the left side of the midfield set up by Kim Doo-hyun as he slightly twisted the direction of the ball from the mid goal area in the third minute of the second half.
It was his first goal in seven A-matches between national teams. The goal gave him twice as much happiness since he allowed a turnaround goal because of crucial defensive errors against Colombia on January 16 as he had the ball get stripped by the defender.
Korea, which allowed an opening goal by a penalty kick during the injury time of the first half, notched a one draw, one loss record in the field training evaluation match as Kim`s scorcher concluded a 1-1 draw. Korea has three draws and one loss in head-to-head competition against Paraguay. The Korean team will have its last evaluation match against Sweden on January 23 in the U.S.
Kim Jin-kyu, who is actively taking part in the youth team, Olympic team, and the national team, is dubbed "Fighting Chicken," "Time Bomb," and "Captain." He has enough charisma to lead the youth team and possess a strong fighting spirit, but he also has a sanguine temperament. Head coach Jonas Bonfrere (59) highly evaluated Kim`s spirits and played him as a starter for the national team.
Kim, who graduated from Ahn-Dong High School in 2003 and went directly to the pros, is evaluated as improving each and every day under the guidance of Bonfrere.
In the match against Paraguay, Kim Jin-kyu maintained solid defense while, on the other hand, took part in counter-attack plays and participated as the core of the offense. In set play situations, Kim aggressively supported the offense and connected the corner kick of Park Kyu-sun into a header in the 38th minute of the opening half and attempted powerful volley kicks, which intimidated the goal keeper of Paraguay as the tries eventually connected into the precious tying goal.
The field training in United States represents a change in generation. It remains a question whether Kim Jin-kyu can replace Kim Tae-young (Chun-Nam), who is ready to retire, and "Forever Libero" Hong Myung-bo.
Sang-Ho Kim hyangsan@donga.com yjongk@donga.com