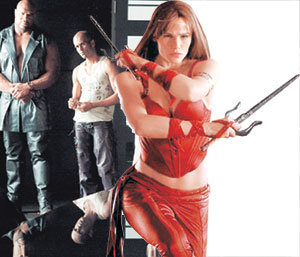 Jennifer Garner (33) is best fit for performances that don't involve her smiling. Even though she asserts that her hobby is gardening and cooking, it was quite embarrassing to watch Garner perform in a "cute" role in the romantic comedy "13 Going on 30" (2004), with her 175 cm stature, rough chin and cheekbones, and oriental fingers and toes.
Garner finally seems to have met her match. In the sci-fi action movie "Elektra," she plays a warrior who defeats burly men in a single stroke, all the while wearing a blood-red suit and brandishing two daggers. The movie is based on "Daredevil" (2002), starring Ben Affleck, but focuses on the hero's lover "Elektra." Jennifer Garner also played Elektra in the previous movie. Elektra's image in this movie is closer to Gina Davis' deadly assassin role in "A Long Kiss Goodnight" rather than Angelina Jolie's sexy warrior role in "Tomb Raider."
Elektra learns martial arts from the master of the Kimagure, "Stick," who is able to see the future, but she is kicked out for failing to control her emotions. As a cold-blooded assassin, Elektra is assigned one day to kill the father and daughter, Mark and Abby. By discovering her own younger self in Abby, however, Elektra fails to complete her mission. When the deadly assassin group "The Hand" tries to play a role by taking over her job, Elektra steps in by confronting the murderers.
Based on Marvel Comics, which has generated such popular all-American comics as Spiderman and X-Men, the movie "Elektra" possesses unique and well-developed characters. Along with Elektra, "Kirigi," the main villain, "Tattoo," who can create live animals by tattooing animals on his skin, "Typhoid Mary," who can poison anything that touches her fingers, and "Stone," who possesses an impossibly impenetrable skin that is resistant to bullets, all have dark and sinister charismas.
The large-scale and spectacular movements that woo the audience end in the first 30 minutes into the movie. Devoid of special effects and using primitive weapons such as axes, knives, and arrows, "Elektra" attempts to cover the heavy and slow-paced screen by allowing the viewers to glimpse into the internal conflicts of the characters, but despite everything, this action movie sadly lacks one essential quality. Action.
Perhaps the Chinese character (空, emptiness) written on the villain Kirigi's dress was a premonition. While the villains displayed their deadly techniques up to the climax of the movie, they would fade away "emptily" when coming face-to-face with Elektra. By building up the climax but failing to act on it, the movie was equivalent to watching a student pulling an all-nighter and sleeping throughout the exams. Judging from the Japanese-styled victims, the movie made the error of enacting a samurai-type action at the modern stage.
Korean-American Will Yun Lee("007 Die Another Day")'s character "Kirigi" seemed menacing. But his deep gaze and girlish hairstyle appears almost lyrical and sappy, leading the audience to imagine that perhaps he and the tough Elektra mistook their sexes, or perhaps even their whole stance on good and evil. Jennifer Garner, on the other hand, was perfect as a cold-blooded assassin. But just one point: Garner's large hips that forced the actress to waddle along was an unwelcome distraction, rather than a blessing for the warrior.
The movie was directed by Rob Bowman, who produced the TV series "X-Files" along with a number of movies. Open on January 21. PG-13.
Seung-Jae Lee sjda@donga.com