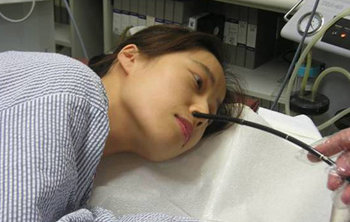 An endoscopic examination is inevitable when trying to diagnose stomach cancer. On the other hand, patients experience enormous inconveniences when an endoscopic tube is passed through the mouth and the throat. The major inconveniences includes pain, queasiness, and suffocating feelings.
Therefore, there have been an increased number of patients who have opted to have endoscopy as they sleep. However, this is not wholly trustworthy since rare cases of fatal accidents have been reported during sleep endoscopy procedures.
Recently, a new research result was reported that the inconvenience and pain from patients undergoing endoscopic procedures decreased when patients had nasal endoscopy.
Professor Kim Jin-hong at the Gastroenterology Department at Ajou University Hospital had an experiment with 240 patients; the result said patients who had nasal endoscopy showed a higher satisfaction rate than their counterparts.
Kim separated the objects into groups A and B, each composed of 120 patients, and inserted a tube through the noses of group A and through the mouths of group B.
According to the result, 60 percent of the patients in group A did not experience any queasy feelings, while all members in group B felt queasy. When it came to pain when the tube was passed through the throat, 62 percent in group A answered, "I didn't go through pain," but 99 percent in group B said, "I had pain."
To the question of whether patients had suffocating feelings, 79 percent in group A said, "Yes, I did." However, only one percent in group B responded positively.
Overall, the experiment resulted in higher satisfaction from group A. A total of 99 percent of patients from group A picked either "satisfied" or "highly satisfied" in a post-experiment poll. On the other hand, 60 percent of the participants in group B were satisfied with the examination.
In group A, 94 percent said they would prefer nasal endoscopy.
This experiment does not necessarily prove that nasal endoscopy is better than the commonly used method. But it is meaningful in that endoscopy patients now have more options. Kim says, "If customers were hesitant about getting endoscopy procedures due to fear, I would actively recommend nasal endoscopy."
Sang Hoon Kim corekim@donga.com