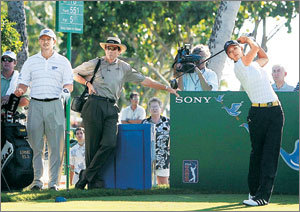 MichelleWie played a practice round with Ernie Els also last year. Els said, "She has the most beautiful swing among all the female golfers I've seen." The press gave Wie a nickname, "Big Wiesy," taken from Els' nickname, "Big Easy," who has a soft swing even with his tall height.
David Leadbetter, a well-known professional golf teacher who is Michelle Wie's coach, accompanied Wie during a practice round today and taught her scrupulously about her swings and courses. Although coincidentally, all three golfers who participated in the practice round were Leadbetter's students, he stayed with Wie, giving all his advice to her.
He was confident that Wie would easily clear the preliminary round, saying, "Because she strengthened her short game, which used to be her weakness, and she can now freely use various shots, passing the cut line won't be a big deal for her."
Last year, although she scored even par with 72 strokes in the first round and 68 in the second round, she was disqualified by one-stroke differences.
Comparing Michelle Wie's record with the average of PGA golfers last year, her average yardage, which is over 270 yards, is similar with those of male golfers. Wie's accuracy percentage of balls that land on the fairway outpaced the average of PGA golfers by 68 percent to 54 percent. However, her accuracy on the green was 56 percent, far behind that of PGA golfers, and that is because her strength is not strong enough yet.
Although there are disputes over Wie's participation in male competitions, she showed her volition during an interview with the AP by saying, "I concentrate more in practice when I hear people saying, "Isn't it better to win by competing against my peers?"
Wie Byung-wook (46), Wie's father, said, "Because she did too well last year, I can't sleep at night, worrying about this year." However, Michelle Wie's answer is sturdy.
"Don't worry, dad. I'm not concerned about clearing the preliminary round. What I'm concerned about is entering the top 20."
Michelle Wie will play with Brett Wetterich and Matt Davison, who passed qualifying school last year, and will tee off at Hole 10 at 3:59 AM on January 14. It will be broadcast on J Golf, and the Q Channel, and the first round will be aired from 8:30 a.m. to 11:00 a.m.
Sang-Soo Kim ssoo@donga.com