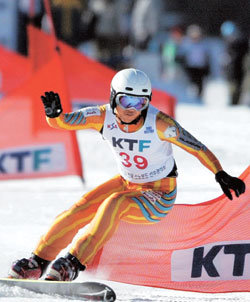 Freedom! Aspiration! Music!
The world of snowboard, an "icon of a new generation," unfolded on the snow. Boarders freely released their energy in the blue sky and on the glaring snow-white slope.
The first KTF Cup National Open Snowboard Championship (Host: Dong-a Ilbo, Supervision : Seoul Ski Association, Sponsor : KTF) started the 3-day competition on January 6 at Mega Green Slope of Yongpyeong Resort.
A total of 215 riders, 182 males and 33 females, some 100 of them professionals and the others amateurs, altogether participated in the preliminary competition on the first day. They competed to qualify for the 32 strong (male) and the 16 strong (female), racing the 330m-course, along which 16 flags were installed, twice.
Yoon Dong-hyuk (Nexen), a national boarder, finished in first place among male contestants in the preliminary, recording a total of 51.49 seconds for the two races, while Shin Da-hye (Burton), another national boarder, received the top score among females with 58.74 seconds.
Amateur Lee Tae-sik (38) attracted attention, ranked fifth among males with a time of 54.61 seconds, besting the professionals. A snowboard fanatic, he has been enjoying the sport for 11 years and even experienced overseas training. He is also the father of Lee Gwang-gi (11), a junior national boarder.
The first ever competition in which professionals and amateurs competed with each other at the same course almost looked like a festival. Contestants enjoyed the cheerful rhythm from the loudspeakers and spectators along the slope encouraged the riders with clapping and cheers.
Park Gyeong-jun (27), a member of "Uratchacha," an Internet snowboard club on portal site Daum, pleasantly said, "This is the largest-scale and the highest-level competition that I have ever participated in. I came here to beat the professionals." Competitions among the 32 strong (male) and the 16 strong (female) are scheduled for January 7.
Sang-Soo Kim ssoo@donga.com