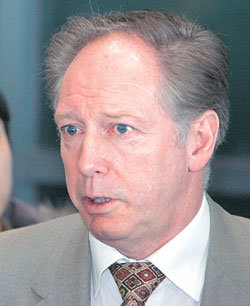 "My wish this year is to advance to the final round of World Cup Germany 2006, of course. None of the players are yet guaranteed to be starting members. So, competition is necessary."
Coach Johannes Bonfrere of the National Soccer Team returned to South Korea through Incheon International Airport on January 5 after enjoying his winter vacation in his home country, the Netherlands. Bonfrere, saying that he was able to take a good rest instead of watching soccer games since most of the European leagues are in recess, warned a real starting line up competition and intense physical strength training was in store for the Korean National Team.
"I can't assume somebody is a good player just because he did well in one game. How hard a player tries in training and his readiness will determine whether he will be included in the entry list or not."
Bonfrere emphasized the introduction of a competitive system. It's very different from what he used to be like when he was receiving criticism that he relied too much on the World Cup 2002 team members.
Bonfrere's saying, "No matter whether we won or lost, there were always some mistakes in the coach's eyes. Just the fact that a player did well in the game against Germany at the end of last month won't guarantee him that he will be included on the entry list," is sort of a warning to his players.
He announced that during the training in U.S. from January 8 to 27, he is planning to focus on finding out about his players, and he will hold intense physical strength training in preparation for the final qualification rounds against Saudi Arabia, Kuwait, and Uzbekistan.
During the team's 19 days of training in the U.S., the national soccer team will play matches against Columbia on January 16, Paraguay on January 20, and Sweden on January 23.
Continuing on, the national soccer team will play one more match against Egypt on February 4 in Korea, and play the first game of the final qualification round on February 9 at Seoul World Cup Stadium. Among the three competing teams in the final qualification round, Kuwait is good at counterattacks, Saudi Arabia has good physiques, and Uzbekistan is a European style team. Bonfrere's plan is to prepare for the games against each opponent in different ways, since all three teams are very different.
Meanwhile, 20 players will be participating in training camp in the U.S., excluding Cho Byung-gook, who will be receiving an operation a dislocated shoulder.
Sang-Ho Kim hyangsan@donga.com