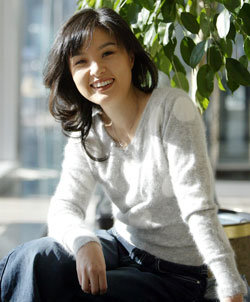 "Lady" is back.
"Lady" was a hit soap opera broadcasted in 1970 on TBC. In 2002, it was remade into an operetta, bringing on the "operetta sensation." This year the operetta will be performed by the same cast as that of two years ago, including Oh Jung-hae (lady), Sunwoo Yong-nyeo (mother), Yeo Woon-gae (old madam), Jun Yang-ja (mother-in-law), and Kim Sung-won (father-in-law).
The theme song of "Lady" sung by the plaintive melodies of Lee Mi-ja, as well as the tunes of "Dongbaek Lady," "The Life of a Woman," and "Cheated by Love," will especially touch a cord with the elderly, reminding them of the old times. This year "Lady" will also be performed in the United States, Japan, and China, touching the nostalgia of the expatriates.
Oh Jung-hae (33) stated, "'Lady' is a piece I wanted so much that I would have felt devastated to see someone else on its advertising posters," and added, "There's no piece like this that the whole family can watch together."
"Lady" is a tale of a woman married at a young age, who endures a hard life under a harsh mother-in-law and an irresponsible husband. Oh Jung-hae's soulful act touched the hearts of the elderly, and the people at the stands started sobbing during the performance. Ms. Oh herself is a daughter-in-law with one son, Young-hyun (aged 8).
"My mother-in-law always watches my first performance. When she saw my act in 'Lady,' she laughed and said, 'How could you act the part so well when I've been so good to you?' and I replied that it was thanks to 'indirect experience.' My mother-in-law is so good to me that I've never had to experience the difficulties of the in-laws, but you don't necessarily have to have the experience it to express it."
Last year, Ms. Oh spent a busy year. In order to be with her widowed mother living in Mokpo, she is currently starring in a program one Gwangju MBC that is broadcasted only in the Junnam area, and she is also hosting radio programs in KBS and MBC in which she introduces Korean traditional music. She also performs occasionally in other regions. In addition, Ms. Oh is pursuing a doctorate degree in Religious Philosophy at the Department of Oriental Arts at Wongwang University. "I think I can perform better if I touch the depths of my music," she says.
As a wife, student, broadcaster, performer of traditional music, and DJ, she lost seven kilograms over the past year. "I was a regular auntie, but now I'm a lady, am not I?" she laughs.
Jan.12∼Feb.2. Seoul Jangchoong Stadium. Weekdays 4:00, 7:30, Sat Sun Holidays 3:00p.m., 6:30 p.m. 1566-2125
Sue-Jean Kang sjkang@donga.com