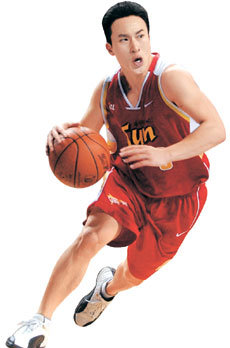 "I'm very glad to hear that my fellow players acknowledge my skills."
Kim Seung-hyung (27•178cm), the point guard of the Daegu Orions who runs all over the court with fancy skill, was the best player, even in the eyes of foreign players.
In a poll conducted on January 3 of 19 foreign players (Freeman of SK was excluded due to amnesia) of 10 professional teams to determine who the best Korean basketball player is, Kim Seung-hyun ranked first, winning 12 votes.
Jerald Honeycutt (LG), who used to play in the NBA, complimented Kim, saying "He has an excellent insight on reading passes and games. His skill might work in the NBA," and Aaron McGhee (KTF) said, "Kim is the only guard who brings the whole defense line down and commands the offense." Jayson Wells (Mobys) said, "His pass-timing is so fast that the defense cannot predict it."
Related to these compliments, Kim Seung-hyun smilingly said, "I think I left strong impressions on them by making many steals from foreign players. I'm enjoying basketball itself."
This season, Kim, who ranks first in the number of assists with average of 10.21 assists every game, is expected to become the first player ever to average more than 10 assists every game. He also ranks second in the number of steals made. Daegu Orions, led by Kim Seung-hyun and winners of four games straight, ranks second in the league.
Coming after Kim Seung-hyun, Seo Jang-hun (Samsung), Hyun Joo-yup (KTF), and Choo Seung-gyun all came in second, winning two votes each. Joe Bunn (SBS), and Thomas Junior Burrough (SBS) voted for Seo Jang-hun and said that even though Seo is very tall (207cm), his shooting is pretty accurate. Albert White (ET), who has recorded the most number of triple-doubles (10), voted for Hyun Joo-yup's all-round play and his record of five triple-doubles.
Among the foreign players whose skills are equal, Charles Minlend, who was the MVP of foreign players last year, was nominated the best foreign player, winning six votes for his skill without ups and downs, and his leadership. It was interesting that Chudney Gray (TG) voted for Charles Minlend, because Minlend was four years senior to himself at St. John's University.
In the meantime, not a single player from Samsung or LG, who are having trouble with foreign players, received any votes.
Jong-Seok Kim kjs0123@donga.com