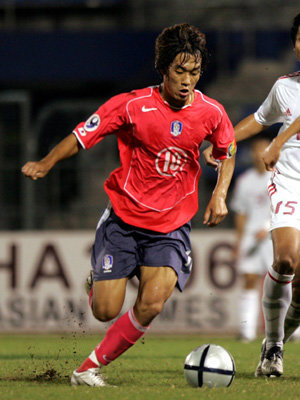 "I will simply concentrate on soccer. I will not let down my fans."
Since the end of last year, Park Ju-young (20, Korea University), Korea's "rising threat" in soccer, has not answered his cell phone. Only when the caller ID shows numbers of his parents, agent or close friends, does he push the send button. His self-imposed isolation is to keep a promise he made to himself that he will keep focused only on soccer.
In 2004, Park Ju-young had a variety of experiences. In the AFC Youth Championship 2004 (for under 19-year olds only) that came to an end in October, the Korean team won the championship and Park swept the top goal scorer title and the MVP award, taking the Triple Crown and coming into the spotlight. Park's agent Lee Dong-youp, a manager at Sports House, said, "The spotlight was quite unexpected and Ju-young didn't know what to do." It means that Park was under heavy 'psychological pressure.' The reality is stark when it comes to competition, and if one is to survive, he should know how to control himself. Park had little idea how. He bit his lip, saying, "I will never be successful if I am just satisfied with what I am now."
In 2005, Park Ju-young will be busy. First of all, he will play in the FIFA World Youth Championship Netherlands (for under 20-year olds only) that starts June 10 to once again rise to the "semifinals," 22 years after the Mexican championship in 1983. After displaying improved techniques in the Netherlands, he wants to go on to the national team for the 2006 World Cup in Germany. Park is brushing up on his skills to change the view of himself held by Johannes Bonfrere, the director of Korea's national team. Bonfrere commented, "He is not fully mature. He could hardly hold onto a place on the national team."
Park Ju-young will be in training for the youth national team that begins on January 3. On January 11, he will fly to Qatar to participate in the Championship for Eight National Teams, which will be held from January 14 to 26. He has a full schedule with a friendly match with the Syrian youth national team on January 29 and February 1, and field training in Spain from February 3 to 9.
"I will put my promise into action. I think making good on my word will please my fans."
He is called "a born striker" with broad vision, excellent dribbling and shooting skills that are expected of a good striker. Byeon Byeong-joo, his soccer team director at Cheonggu High School, boasted about Park, adding, "He is not talkative, but a genius with an IQ of 150." He could be soccer's rising sun in the Year of the Rooster.
Jong-Koo Yang yjongk@donga.com