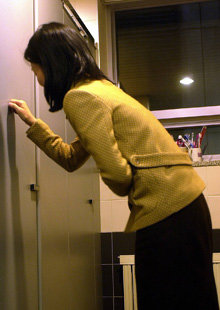 The second biggest reason for workers' absence. Thirty percent of outpatients come to the digestive internal department for this, five percent of the local population has this presently, and 70 percent of the population suffers from this at least once a year. We are talking about hypersensitive intestinal syndrome. It may not threaten one's life, yet it degrades one's quality of life greatly. A survey shows that 40 or some percent of people with the syndrome feel they are "seriously" restricted in times of travel, leisure, meals, and sexual intercourse.
Is It Not a Disease?-
Endoscopies or computed tomographies, or CT, cannot spot any region that seem to be working improperly. Therein lies the reason why it is called a "syndrome," not a "disease." People with above-mentioned symptoms are diagnosed as "having the syndrome probably because they have hypersensitive colons."
Hypersensitive intestinal syndrome does not grow to become serious illnesses like ulcerous colitis or colon cancer. It is developed in women three times more frequently than in men, and many get it before they reach the age of 35. As groups get older, the number of patients in it with the syndrome decreases.
The most common symptoms of the syndrome are stomachache, constipation, and diarrhea. You may have only one or several in turn. Your intestines rumble and your stomach swells. At times, you feel anxious, as you may want to go to the restroom all of a sudden. You may see some mucous liquid in your excrements, yet no blood.
Up until now, the cause of the syndrome hasn't been identified. It is only estimated that an overly contraction of intestinal muscles or, vice versa, an extreme lack of exercise causes the symptoms. They may occur on a temporary basis as aftereffects of food poisoning and inflammation of the intestines, yet disappear mostly within a year.
Mind Your Diet and Relax-
Doctors let patients with this syndrome take medicine, have a good diet, and exercise altogether. It isn't easy to apply the same treatments to all patients as each complains of different symptoms. The best you can do is to see a doctor.
A complete cure of the syndrome is difficult as symptoms repeatedly appear and disappear. Five percent of all patients find themselves failing to improve even a bit even when they apply all the known treatments.
Therefore, what counts the most is to relax. Stress is the main culprit behind an aggravation of hypersensitive intestinal syndrome. When you are stressed, what you've eaten moves in your colons more rapidly and your colons get overly activated to an abnormal extent.
In addition, eight to 15 percent of people suffering from the syndrome complain of anxiety or depression. Meditation for relaxation or hypogastric breathing will help relieve your pains.
Three out of four patients with hypersensitive intestinal syndrome experience a stomachache or diarrhea right after they eat fatty food. That is because an excessive amount of gases are produced in digestion process, while food is not absorbed as fast.
The most glaring examples of such foods are dairy products like cheese, yogurts and milk. You may show "rejection symptoms" after you have consumed food made of flour, chocolates, alcohol, tomatoes, corns, onions, beef, oatmeal, and white wine.
Among them, around 60 percent of Koreans show rejection to milk, though the extent to which they reject differ. However, it doesn't follow that you should not drink nutritious milk. An intake of less than 0.25 liter of milk a day generally will not cause those symptoms.
The best option, after all, is to take food, which you show rejection to in small quantities and several times.
If constipation is your main symptom, you should drink lots of water and have lots of fiber. Indeed, recent serial studies showed that oligosaccharide in beans are good for people with constipation.
Sang Hoon Kim corekim@donga.com