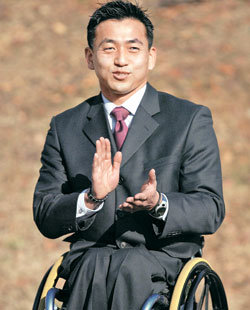 The year 2004 spared a day to call it an end.
I hope time ceases forever. It was a year of such happiness and desirable outcomes.
Hong Seok-man, 29 years old, seized gold medals in the men`s 100m and 200m wheel chair race and a silver medal in the 400m for the 2004 Athens Paralympics. With his first appearance in the Paralympics, he became the first Korean champion in track & field and also set a new world record in the men`s 200m with a time of 26.31 seconds.
"It was a year that brought great things for me, and it was also a turning point in my life as I found a new opportunity." Hong`s face looked bright in reflecting on his unforgettable year. No gloominess showed on his face. We told him, " You look nice in a suit," to which he replied, with a grin, "It`s the Korean team uniform from the 2002 Busan Asian Games, and it is perfect to wear as a coat because of its mediocre design."
Putting aside his pleasant life these days, the road to success was never smooth. Hong was born in Jeju Island as the last son of three brothers, but suffered infant paralysis when he was three, and his parents had to carry him on their backs to school.
Upon entering middle school, Hong began to train at the wheel chair track despite the dissension of his parents. "I wanted to run but was frustrated when I realized I couldn`t. I felt I could take a chance on anything if only I could feel the sense of speed," commented Hong. After he dropped out for the national team for the 2000 Sydney Olympics, he left the wheel chair track field for two years. Reflecting on this, it was the harshest period of his life. The only way he could find a way out was through training. Every night after work, Hong wheeled over 150 laps of a race track without a coach. A wheel chair for real races, which cost nearly 10 million won, gave him a financial burden.
After overcoming these barriers, he stood with a gold medal in Athens Paralympics. He also remembers being so happy that he bit the medal.
Hong spent a busy three months after returning from Athens. Clustered with interviews from news agencies and proposals to appear on air, Hong was also cast for a commercial. He also freed himself from economic hardships after receiving a guaranteed 800,000 won monthly pension. Hong commented, "I thought attention for the disabled was only spotlighted during the Paralympics, but it lasted longer then I expected. I thought it was worth it since it renewed a better understanding of the handicapped."
Hong is planning to head to the United States to study next March since he wants to learn handicapped oriented physical education. He`s also willing to get engaged with his Japanese girlfriend whom he met six years ago. Furthermore, he has to focus on the 2008 Beijing Olympics.
On the front page of his personal internet site (www.shadowface.com), the title is " I love wheel chair racing, which keeps me in check and chases my dreams."
The revolving wheel was the wheel of hope to break away from the world full of prejudice and adversity.
Jong-Seok Kim kjs0123@donga.com