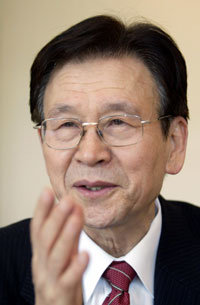 "Goguryeo's fearless audacity and Baekje's pioneer mentality is a valuable asset to Koreans, but what's needed most these days is Shilla's team spirit and diplomacy. The great achievement of the three-nation unification of Shilla, the weakling of the three nations, and the potential of her 1,000-year legacy is our most precious asset right now."
An invited professor at Sangmyung University, Shin Hyung-shik, who recently published "Shilla Tongsa (whole history)" (publisher: Juryunsung), is a historian veteran, with "Shilla History" (1985), "Baekje History" (1992), "Goguryeo History" (2003) to his name. A former history professor at Ewha Womans University for 20 years, he retired and transferred to Sangmyung University.
Professor Shin is renowned nationwide for his endless trips to China in his steady pursuit to research and converge Chinese Goguryeo history for 10 years. He is also the president of Paeksan Symposium and has been involved with Northern land such as Kan Island.
A lingering regret that Korea's traditional legacy Shilla was being neglected next to Goguryeo and Baekje prompted him to publish "Shilla."
"There are government-established Goguryeo research institution foundations for Goguryeo history, and already five institutions are dedicated to the study of Baekje history. But there is only one Shilla institution, operated by Dongguk University in Kyeongju. It is because there is a subconscious grudge against Shilla for losing national soil when it unified the three nations."
Professor Shin emphasizes that foreign powers (Dang Empire) was not, in fact, the propelling force behind Shilla's unification. It was because Shilla realized the first "franchisement" out of the three nations, urging the leaders to display self-sacrifice and to let the citizens participate in national affairs, and because Shilla possessed a tricky diplomacy, balancing the northeastern powers.
Shin compared Kim Chun-chu and Kim Yoo-shin to Preussen's Bismarck and Moltke, asserting that instead of "Shilla- allied forces conquering Baekje and Goguryeo," "Shilla maneuvered China to unify the three nations," and insisted upon a change of historical recording.
Professor Shin also shared his unique views on Shilla's millennium legacy, claiming that preserving Gyeongju as a capital and endlessly complementing Kyeongju was the secret.
"Goguryeo lost in the power fight with China in moving the capital to Pyongyang, and Baekje grew weak after relinquishing Hansung and continuously moving to Gongju-Buyeo. In contrast, Shilla did not move the capital even after unification and choose instead to allocate her power in the manner of the Five Small Cities policy. Korea today would be wiser to study methods to proportion Seoul's functions, instead of moving the capital."
Chae-Hyun Kwon confetti@donga.com