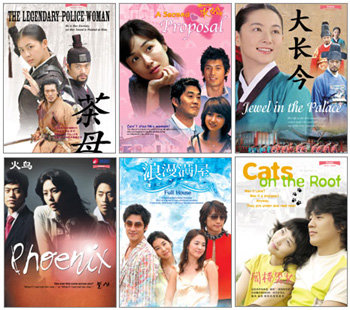 "The Legendary Police Woman," "Di er ci qiu hun (第二次 求婚)," "Ba li de lian ren (巴黎的 戀人)."
These are, respectively, the titles given to the Korean TV dramas "Damo" (MBC), "The Second Proposal" (KBS2), and "Lovers in Paris" (SBS) for export to various Asian markets.
The poster of "Damo" designed for overseas audiences introduces the show as follows: "He is her eternity, yet her sword is pointed at him."
TV drama producers in Korea no longer limit themselves to domestic audiences. With the popularity of Korean stars spreading across Asia, they now create shows to satisfy both domestic and overseas demand.
Shows are set on American college campuses and in the back streets of Beijing. When scenes feature foreign actors, Korean subtitles are provided. These are all results of the widening appeal of Korean shows and entertainers, known as the "Hanryu" wave.
Breaking Down Cultural Walls with Melodrama: Even Posters and Titles Are Tailored to Local Tastes—
SBS's drama "Yurihwa," which is aimed at the Japanese market, features the scenery of Kobe and the actor Lee Dong-gun, who is especially popular in Japan. The show's creator LeeKim Productions is planning a mini series that targets the American and European markets for next year, with a budget of over four billion won.
After conducting market surveys, the production team concluded that a drama has to be on a larger scale if it is to infiltrate the U.S. and Europe. Accordingly, the projected mini series is being conceived not as a tragic love story like "Yurihwa" but as a blockbuster focusing on a story about revenge or success with a smattering of melodrama added.
JS Pictures, which produced SBS's "Love Story in Harvard" for the Japanese market, is also planning to make one of the three or four shows they have lined up for next year "export-friendly" by including overseas location shoots.
The idea behind "Love Story in Harvard" came from the fact that both Koreans and Japanese have a particularly high zeal for education. JS Pictures plans to keep its shows grounded in melodrama in the coming year, and to touch on topical issues common to both Japan and Korea.
KimJongHak Production is jointly producing "Sad Love Song" (MBC) with funding support from Japan, China, and Taiwan. The total support comes to 3.5 billion won, which is almost half of the overall production budget. Next year, KimJongHak Production will produce two drama shows in high definition (HD) for export. One of these will be shot partially in either Japan or Hong Kong, and even feature relatively new actors that have yet to be tested in the Asian market.
Most of the shows that are being exported are melodramas. This is because the subject most easily accessible across various cultural and ethnic backgrounds is "love." Also on the increase are overseas location shoots set in the country of intended export. Such trends are strategies aimed at reducing the inevitable "cultural discount," or the idea that the appeal of cultural products diminish in proportion to the distance they travel from the culture that they are rooted in.
Posters for exported dramas follow a strategy of "localization" as a means of lowering the cultural discount. In these "adjusted" posters, the actor that has the most visibility in that particular market takes the foreground. In Asian regions with a high Chinese population, the colors red and gold see relatively higher usage. In Islamic regions, green is used more frequently.
Renaming the shows for export is also a key factor. "Lovers," starring Hwang Shin-hye and Yoo Dong-geun, was introduced into the Chinese market under its original title, but it failed to attract an audience. The Korean word for lover (ae-in, 愛人) means "husband" or "wife" in Chinese, so the title failed to communicate the show's main theme of adultery.
The Rise of Blockbusters: Overseas Marketing Will Decide the Fate of Exported Shows—
Thanks to the "Hanryu" wave, the proportion taken up by television dramas among exported broadcasting content has risen dramatically. According to the Ministry of Culture and Tourism, drama shows accounted for 94.4 percent of all exported network TV content in 2003, or $26,259,000 out of a total of $27.83 million. In 2002, the same statistic was 83.4 percent, or $15,613,000 out of a total of $18,716,000. This year, the ratio of exported drama shows is expected to increase even further.
Independent production companies have recently begun to stake their livelihood on overseas export, producing shows at a cost almost double the amount usually expended on shows created only for domestic distribution and bringing in funding from foreign investors. Although the risk is high, the profit rate is equally high. In particular, television dramas rake in more money in value added, such as DVDs, soundtracks, and book sales, than they do in broadcasting rights. In other words, they earn several times the original investment through a principle of "one source, multiple uses."
The show that has made the most amount of money so far is "Winter Love Song." As of its final air date in Korea, on March 19, 2002, the show's production budget totaled 2.98 billion won. But it went on to make 10.45 billion won in net earnings, from television commercials, soundtrack and DVD sales, and the export of travel packages to locations featured in the show. "Winter Love Song" also sparked the "Yong-sama" fever in Japan, and brought in 22 billion won in direct earnings from broadcasting rights, DVD sales, and soundtrack royalties.
Independent production companies cite the difficulty of building a profit structure in the Korean market as one of the reasons why pioneering foreign markets has become such a high priority. The drama "I'm Sorry, I Love You" (KBS2), produced by Eight Peaks, scored the highest ratings in its time slot (nearly 30 percent), but is expected to suffer a loss of about 900 million won. Song Byeong-jun, who represents Eight Peaks, remarked, "The fee paid by the broadcasting company is not enough to cover the production cost of 130 million won per episode." He further explained, "The rest of the money needs to be resolved through sponsors, but with the current economic recession, it is difficult to make a profit without making overseas sales."
In the case of shows intended for export, production companies make up more than 30 percent of the production cost through foreign sales. As of November, the show that recorded the highest amount of export per episode among MBC dramas was "Firebird," with overseas earnings of $54,800. This approaches 68.5 percent of the total production budget of $80,000. Park Jae-bok of MBC Production's planning department pointed out, "Exports of dramas tend to be focused too much on short-term results," and offered, "Hanryu dramas need to strategically elevate their quality competitiveness by securing solid plot lines and acting talent."
Jin-Yeong Lee ecolee@donga.com