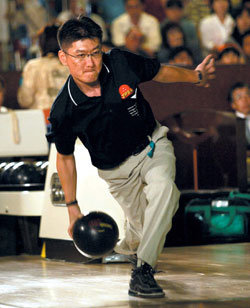 There`s not only "Yonsama" in Japan. The presence of the phenomenon of "Jungsama" among bowling fans is coming on strongly. The hero is Korean pro bowler Jung Tae-hwa (37•Handok Construction). Jung stood on top of the All-Japan pro-bowling ranks with 2,550 points, which was announced on December 24. Jung, in his second year in Japan, claimed this prestigious mark after topping the prize money list last year with 6,058,000 Yen.
Although Jung hasn`t clinched any championships this season, he tallied three victories in the past seasons and steadily stacked up points. Early this month in the season's round-up tournament, the Japan Championships, with Byun Yong-hyun taking the trophy, Jung stood in eighth position with the final game remaining, but notched 290 points and surpassed four Japanese bowlers as he advanced to the TV finals in fourth place. In consecutive sessions, Jung defeated the third and second place bowlers and put himself in the square off with the top seed and succeeded in claiming the number one spot. The gap between the second seed, Yasyuki, and him was only two points.
In all 10 times that Jung Tae-hwa has shown up in an arena to participate in Japanese tournaments throughout the year, bunches of Japanese women gather around for his signature and an applause squad follows him.
Skills and additional factors of Jung have made the "Jungsama" phenomenon possible. In last August's mixed doubles match up, Jung implemented a winning ceremony by hugging his partner and circling around a few times. The stern Japan bowling union was taken aback since the regular ceremony typically consists of, at most, sharing high-fives.
But the comments such as "tough" and "awesome" came out from the fans and the women players. Jung Tae-hwa holds a strong fighting spirit. Whenever he hits a strike, Jung clenches his fist. The action is to forestall the opponent as he hypnotizes himself, as bowling is very much a mental game. Also, whenever he gets a split, he never hides the feeling of disappointment. His hair was quite long for some time. Jung said that kind of looks reminds him of Bae Yong-joon.
Jung Tae-hwa, who broke 100 million won in total prize money for the past three years, is still single.
"Next year, I`ll pull the second place ranking (average of 217.79) to first and claim the Triple Crown. After that, I`ll head to the U.S., which is the home stage of bowling."
Old bachelor Jung Tae-hwa, who missed the right time for marriage due to bowling as his emotions towards his 10-year girlfriend have shifted to friendship, has begun his period of conquer.
Hwan Soo Zang zangpabo@donga.com