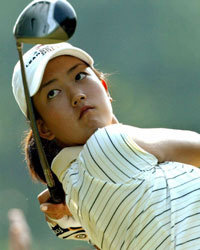 "Michelle, Michelle…"
"Big Wiesy," Michelle Wie, was certainly a major topic in the world of golf in 2004. After a weekly golf magazine, Golf World, ranked Michelle Wie seventh in the category of "Top 100 Newsmakers of 2004," the Golf Channel (www.golfchannel.com) also ranked her 10th on its "Top 10 Golf Newsmakers" list.
Michelle Wie, who is the youngest female golfer on the PGA tour, played even par in the Sony Open, which was held in January in Hawaii. However, she wasn't able to qualify for the final round. Among the golfers who played with same score were Jim Furyk (USA), and Darren Clarke (Ireland).
Quoting Ernie Els, who played a practice round with Wie, the Golf Channel reported that Ernie Els was astonished at her genius. Referring to Wie, who hit 20 yards longer with a No.3 wood than he did at hole 10, Ernie Els said, "I have never seen a female golfer with such a nice swing. Although Annika Sorenstam's swings are also nice, if Wie perfects her swing, she will hit longer than any female golfer can."
Jesper Parnevik (Sweden), famous for his eccentric ways, said, "Wie was 100 times more impressive than Sorenstam at the Bank of America Colonial Championship (PGA Tour)."
Michelle Wie showed off her worth by qualifying in the preliminary matches of seven LPGA tour events after the Sony Open. Although she didn't win any prize money because she is still an amateur, she would have won $270,000 and ranked 44th on the LPGA money list if she were a professional.
She is planning to enter the Sony Open again in January 2005. In a USA Today interview with Wie's father, Wie Byung-wook, he said, "Although Wie has been invited to many male tour events next year, no decisions are made yet. It'll depend on the results of the Sony Open."
Sang-Soo Kim ssoo@donga.com