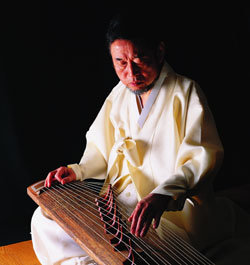 A leading Gayageum (6-string zither) performer and traditional music composer, Hwang Byung-ki (68, picture), is going to bring his performance and explanations to the audience. The sub-title of his coming traditional music concert, which will be held on December 28 at Kumho Art Hall, Seoul, is "Gayageum! Its refined and translucent sound is around."
He will perform his representative works such as "Chimhyangmoo" and "Forest." And a Daegeum performer, Hong Jong-jin, will play "Harlm Castle," and Gang Jeong-soon will sing "The Moon of Hometown," two songs that were composed by Hwang Byung-ki.
"The program of the concert focuses on showing the sound world of Mr. Hwang. The main part is composed of Gayaguem performances, and the rest includes room for vocal music and for some other musical instrumentals. It also has a wide but balanced variety from his early recordings to more recent ones."
The colors of chosen pieces are varied. He picked three pieces as his favorites; "Namdo Fantasy," which was disjointed and reorganized from Sanjo, the essential music of Gayageum performances, "Soyeop Sanbang," music that characterizes Taoism with landscapes of late Autumn mountains, and "Harlem Castle," from which Hwang got an imaginative hunch from the location where Ureuk (a Gayageum player in the Sixth Century) once played Gayageum.
To the question asking about his recent life, he answered with a hearty laugh, "Huh huh," which is his unique way of laughing.
"In November I had a concert in Utrecht, Netherlands, and Hamburg and Berlin in Germany. I have seven concerts scheduled in December. At the 20th anniversary commemorating Park Noh-hae's poem "The Dawn of Labor," I played the Gayageum accompaniment to his poem "For a Peaceful Evening." And, I performed at Samcheonggak and UNICEF's charity concert. Now you can see how busy I am, can you?"
The range of ticket prices is 40,000 won to 50,000 won. For more information, call 02-6303-1919.
Yoon-Jong Yoo gustav@donga.com