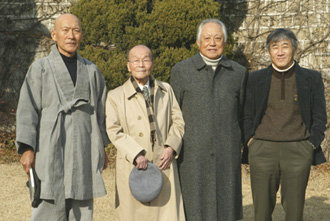 Beop-jeong: "It seems like this is the first time the four of us have gotten together. Isn't the weather unusually warm for this time of year?"
Geum-a: "I remember visiting you at Songgwang Temple's Bulil Am 15 years ago, and traveling to Yeosu and other places together. I had bought you some chocolate, I think. I still recall how well I was treated wherever I went with you accompanying me."
Beop-jeong: "I came to many realizations while building Bulil Am in 1975. It never sat well with me that I had pushed the workers even during the Chuseok holiday so that construction could wrap sooner. I tried to thank them for it a few years later, but couldn't because they had all passed away."
The Buddhist monk Beop-jeong and writer Choi In-ho. The former reads as many books as any professional writer, while the latter, who once dreamed of joining the Buddhist priesthood, is often described as a "Buddhist Catholic." Both still insist on writing their manuscripts on traditional lined paper using a fountain pen.
Choi: "I recently moved from a house to an apartment, but I haven't been able to become attached to it yet. It's hindering my writing. But I've been hiking on Cheonggye Mountain everyday to find inspiration."
Beop-jeong: "You know you've been the 'head monk' of Cheonggye Mountain for a long time now. That's where the Buddhists in the Joseon period, who were persecuted by the government, used to stop to change their clothes or hide the offerings they brought for the temples."
Choi: "Personally, I remember living on Cheonggye Mountain in a tent with my father during the Korean War. And the monk Gyeongheo, whom I admire and even wrote about, entered the Buddhist order there as a young child."
Geum-a and U-am are close friends who have been exchanging greetings at first snow every year for the past 30 years. In 1979, Geum-a gave U-am a book on Renoir paintings for his birthday, and U-am returned the favor by giving Geum-a a book entitled "Physics for Poets" that he had bought in Japan.
U-am: "I pass my time in the country these days, reading books and taking quiet walks. But I worry that young people nowadays seem to be lacking in courtesy and not reading enough classics and literature. During the Japanese colonial era, competition to get into high school was really fierce, but once you made it you could enjoy a lot of freedom and easily go on to the college of your choice. But now…"
Beop-jeong: "Perhaps it's because there's no exam on reading. It would stir up a frenzy for reading if the government decided to test students on the contents of literary works…"
To U-am's story about the French philosopher Montaigne and his remark, "Concerning familiar table-talk, I'd rather acquaint myself with and follow a merry conceited humor than a wise man; and in bed I rather prefer beauty than goodness; and in society or conversation of familiar discourse, I respect rather sufficiency…," Geum-a offers Einstein's comment, "Death means I can't listen to Mozart anymore."
Geum-a and Choi In-ho are widely acknowledged to be "rivals in love." A certain beautiful female psychiatrist once categorized Geum-a as "the warmest man" and Choi as "the sexiest man."
Choi: "Do you still date a lot?"
Geum-a: "Of course."
Choi: "I'm rather jealous that so many beautiful women admire you."
Geum-a: "You're the one that's really popular with the ladies. I once took a woman to my 90th birthday party because she wanted to be seated next to you, but I had to seat her beside me instead because you turned up with your wife." (Laughs)
U-am: "Geum-a, I think women admire you because you wrote such lucid and beautiful essays as 'Bonds.'"
Choi: "I, on the other hand, don't have the talent for that. Besides, novelists can't write such short stuff because that would make it impossible to make a living." (Laughs)
Geum-a, who is enjoying his twilight years with his 88-year-old wife, confesses that he favored his daughter over his other children. He says he refrained from sending her to school on rainy days or when she was even slightly unwell, and taught her personally at home instead. His daughter later went to the U.S. to continue her studies, but returned home three times because she missed her father. She is now a world-class physicist working in the U.S.
Myung-Chul Oh oscar@donga.com